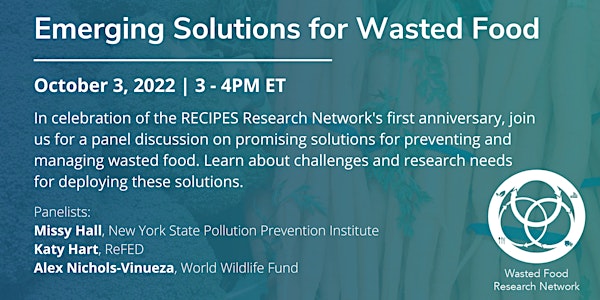 Webinar: Emerging Solutions for Wasted Food
Emerging Solutions for Wasted Food: A Panel Discussion Featuring RECIPES Partners
About this event
Webinar: Emerging Solutions for Wasted Food: A Panel Discussion Featuring RECIPES Partners
October 3, 2022 | 3 - 4PM ET
In celebration of the RECIPES Research Network's first anniversary, join us for a panel discussion featuring a few of our partners. We will hear from our partners
How each organization tackles wasted food
Research needs to develop solutions
Challenges in deploying solutions
Promising solutions they're excited about and solutions that are gaining traction
Panelists:
Missy Hall, New York State Pollution Prevention Institute
Alex Nichols-Vinueza, World Wildlife Fund
Learn more about Multiscale RECIPES (Resilient, Equitable, and Circular Innovations with Partnership and Education Synergies) for Sustainable Food Systems at https://wastedfood.american.edu/
This event will be hosted on Zoom with Communication Access Realtime Translation (CART) captioning. The session will be recorded and the captioned recording will be made available following the event. Please let us know what we can do to make our events more accessible and welcoming for you. If you have more specific needs, please email our Program Manager, Rachel Weiss, at rweiss@american.edu.