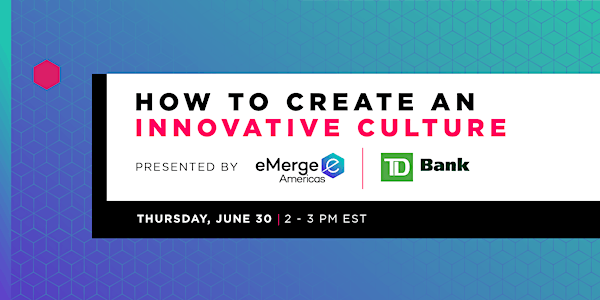 WEBINAR: eMerge + TD Bank Present: How To Create An Innovative Culture
Join eMerge Americas and TD Bank for a virtual panel on creating an innovative culture that fits your personal and/or professional goals.
About this event
As the pace of change continues to accelerate, individuals and companies need to create a culture that innovates as part of their foundation. Join eMerge Americas and TD Bank virtually for this webinar where you will hear from technology and business leaders on the fundamentals to create an innovative culture that will meet your personal and/or business goals.
Panelists include:
Licenia Rojas, SVP, Chief Engineer + Chief Architect, TD Bank
Conor Delanbanque, CEO + Founder, Strategio
Christiaan Veerman, Head of Developer Experience, TD Engineering
Jennifer Starkey, SVP/Regional VP, TD Bank
Terry Grandal, Assistant Executive Director, Administration and Operations, NSU Broward Center of Innovation
Felipe Basulto, Retail Market President, South Florida, TD Bank