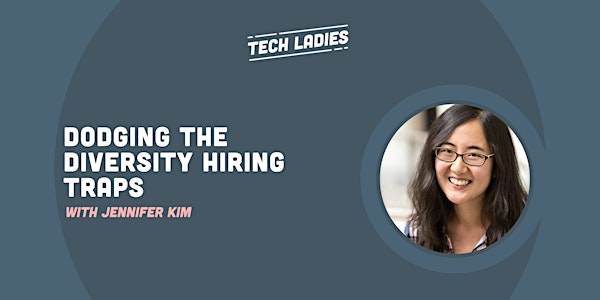 *Webinar* Dodging the Diversity Hiring Traps
Learn how to diversify your pipeline the right way and create a more inclusive workplace
About this event
If you've found yourself wondering why you keep reading "diversity blogs" but the tips aren't helping you create a diverse, equitable, and inclusive company, we're excited to announce a talk that will help you get on the right track. There are so many recommendations for diversifying hiring pipelines that simply don't work - they can be performative at best, or create long-term harm for your employees at their worst. Jen and Anne are DEI and recruiting professionals who want to help you reframe those suggestions to actually work for your company.
Why this facilitator?
Jennifer Kim is a Startup Advisor and Diversity & Inclusion strategist for top startups. Previously, she was the Head of People at Lever, a startup known for its achievements in Diversity & Inclusion. Jen founded Startup Recruiting Bootcamp and is continuously expanding her work helping startups build meaningful, inclusive workplaces. Jen is also active on Twitter, giving out real-talk career advice to tech workers (@jenistyping).
Details/Info:
We will email you login upon registration, one week, 1 day, and 1 hour before the event.
FYI: Ticket sales stop at 10am PT/1pm ET to ensure everyone gets log in info
Don't see your sign in link? Check your SPAM for an email from Tech Ladies or Eventbrite.
Still don't see it? Drop a line to webinars@hiretechladies.com
YES, webinars are recorded! If you buy a ticket, we'll send you a recording to watch approximately 1 week after it airs.
Please also note that we are unable to provide refunds after the webinar has ended.
A note on Tech Ladies Events:
Tech Ladies events are open to all genders.
Please review our Code of Conduct before attending a Tech Ladies event.
Interested in what we're doing? Join Tech Ladies