WEBINAR - Designing a Native Plant Garden - Thursday, November 3, 12:00 PM...
Description
Description: Whether you are looking to incorporate natives into your conventional garden or have been gardening with natives for years, there are certain landscape design guidelines that can help you create a successful space to enjoy for years to come. Look beyond just the plant palette and get into the details of how the space is "put together". In this one hour "lunch and learn" webinar, we will cover the basics of landscape design as well as plant combinations and site selection.
Help Support the Native Plant Master Program: This webinar is a fundraiser to support the Native Plant Master Program in Colorado. Please consider making an optional donation to the program in addition to the class fee.
Trainer: Deryn Davidson is the Horticulture Agent for Boulder County. Her passion for native plants grew during her time as a horticulturist at the Ladybird Johnson Wildflower Center. She enjoys combining her training in design and horticulture with ecological function and helping people disc over new ways to incoprorate native plants into their landscapes. Meet the presenter here.
Registration: As this is a webinar, if you pay the registration fee, you will be sent a link 48 hours prior to the webinar. Please contact NPMAssistant@jeffco.us for any questions.
Organizer of WEBINAR - Designing a Native Plant Garden - Thursday, November 3, 12:00 PM to 1:00 PM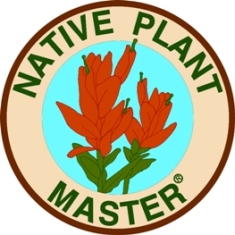 The mission of the Native Plant Master Program is to educate the public about native plants in order to foster stewardship, sustainable landscaping and management of weeds that threaten native ecosystems. See www.M2Mnativeplantmaster.org.
Colorado State University Extension provides information and education and encourages the application of research-based knowledge in response to local, state and national issues affecting individuals, youth, families, agricultural enterprises and communities of Colorado. Extension programs are available to all without discrimination. Colorado State University Extension, U.S. Department of Agriculture and Colorado counties cooperating. If you have a disability for which you seek accommodation, please notify npmassistant@jeffco.us at least 30 days before the event.