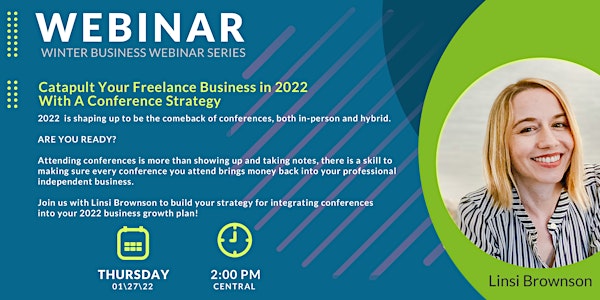 WEBINAR: Design Your 2022 Conference Success Strategy
2022 is going to be a BIG year for business conferences! Get the most out of your time with a strategy the fits your business goals.
About this event
What if you could catapult your Freelance Business in 2022?
2022 is shaping up to be the comeback of conferences, both in-person and hybrid. Attending conferences is more than showing up and taking notes, there is a skill to making sure every conference you attend brings money back into your professional independent business.
It's not speculation that 2022 is going to be a BIG year for business conferences. We've been working on the details for The Freelance Conference later this year and event space is not only at a premium in cost but also in availability!
ARE YOU READY?
Between in-person and virtual events, you can easily fill your calendar and your mind with incredible information this year. But in order to make the most of your conference experience, you need to create a solid strategy that will help you build new relationships and implement your learnings during and after the events you attend.
In this webinar we will talk about:
How to select the conferences best for you to attend
Setting goals for strategy
How to make attending conferences can build your business income, not only new industry skills
And ... how to keep your energy and focus in peak shape.
Your 2022 conference success strategy will help you get focused, inspired, and stay in action all year long - starting now!
Registration is Free ... The content could change your business this year!
Stick around after the webinar to jump into a Breakout Room to share your thoughts on the topic, or practice the strategy we just learned and start connecting with peers and possible new strategic partners using the virtual meeting request features.
Agenda:
2:00 PM - 3:00 PM WEBINAR: Design Your 2022 Conference Success Strategy with Linsi Brownson
Virtual Webinar Platform (link provided after registration)
3:15 PM - 5:30 PM Post Webinar Networking
Virtual Webinar Platform (link provided after registration)