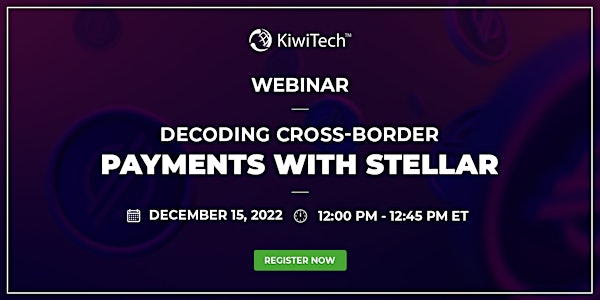 Webinar: Decoding Cross-Border Payments with Stellar
The webinar will showcase how Stellar works, its benefits, & how you can use it to drive time & cost-effectivity for international payments.
About this event
In this webinar, our experts will break down how Stellar works, its benefits, and how you can use it to revolutionize your international payments to achieve a faster & cost-effective medium of transactions. Bring all your questions and join us for a great learning experience!
Run of the Show:
12:00 PM: Check-in and Welcome
12:05 PM: KiwiTech introduction
12:10 PM: Speakers Session
12:35 PM: Q&A Session
12:40 PM: Closing Note
Check out our Web3: Center of Excellence - Learn More!
Speakers:
Mohit Bhagat, Sr. Web3 Engineer, KiwiTech
Mohit Bhagat is a passionate full-stack engineer, skilled in building scalable and highly available web solutions. Among his many contributions, Mohit has been actively involved in building decentralized applications leveraging solutions like EVM-based networks, Stellar, R3 Corda, etc.
Piyush Gupta, Web3 Engineer, KiwiTech
Piyush Gupta is a web3 engineer having to experience in both private and public blockchain-based solutions. His projects involve solutions in Insurance, and supply chain management domains leveraging integrations with DLT solutions like Hyperledger Fabric, Amazon Managed Blockchain, Stellar, and more.
Get ready to be informed, inspired, and motivated by KiwiTech's Web3 experts.