Resilience and Sustainability for the Future
About this event
View Speaker Profiles at CIE Website https://cie-dfw.org/event/2021-cie-usa-dfw-spring-technical-symposium/
The CIE/USA-DFW Chapter is proud to unveil our WEBINAR event for the 2021 Spring Technical Symposium, "Resilience and Sustainability for the Future", and Leadership Assessment and Mentoring Program (LAMP), "Be a Resilient Leader". Admission is free but advance registration is required. Webinar details will be provided via email after registration and before the event starts. Please plan to join the meeting 5 minutes prior to the start time to ensure you do not miss a single minute! A link to the the LAMP event may be found here:
The 2021 CIE/USA-DFW Spring Technical Symposium "Resilience and Sustainability for the Future" aims to present and exchange ideas about the efforts to strengthen the resilience and sustainability to meet the future needs of prosperity. Three scientific and engineering experts from high-tech companies and academic institute in the DFW Metroplex will share their research, innovations, thoughts and vision in their respective fields of batteries, power infrastructures and energy resources. All speakers will answer any questions you may have after their presentations.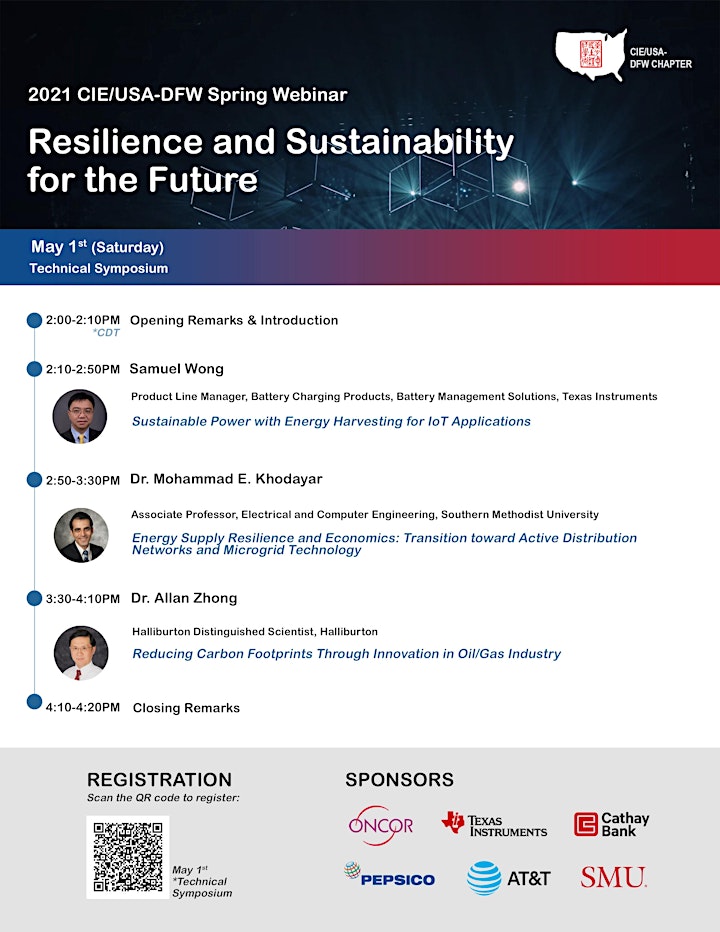 Organizer of Webinar: CIE/USA-DFW 2021 Spring Technical Symposium
The CIE/USA-DFW Area Chapter was established in January 1989 and registered in the state of Texas as a non-profit organization idn 1992. Over the years, the CIE/USA-DFW chapter has established close ties with major corporations and government bodies around the world to promote the awareness and advancement of Science, Technology, Engineering and Mathematics (STEM).