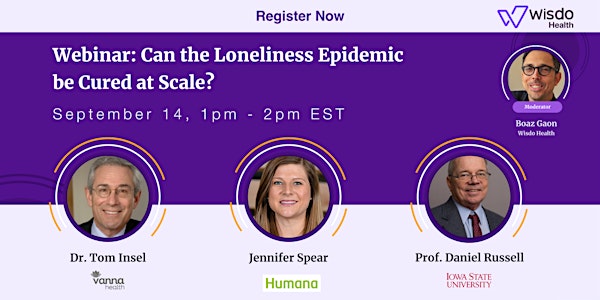 Webinar: Can the Loneliness Epidemic be Cured at Scale?
Join us for a conversation about the financial and physical costs of social isolation & loneliness, and how to best "cure" them at scale.
About this event
Background: The World Health Organization first identified a concerning trend around loneliness levels rising across all age groups two decades ago.
Despite a level of structural connection (broadband, social media, etc.) that has never been higher in the history of humankind, spiraling loneliness measurements point to more Americans feeling disconnected than at any point in human history. This contributes to reduced mental health and increased depression, suicide, substance use, physical illness, and premature mortality rates.
In the past decade, more than 100 million Americans reported feeling a lack in their desired level of human connection.
With its increasing impact on health and medical costs, now, more than ever, we should ask whether loneliness can be "cured" at scale. And, if so, how?
Panelists:
Dr. Tom Insel - Former Director of the National Institute of Mental Health & co-founder of Vanna Health
Jennifer Spear - Associate Director, Population Health Strategy at Humana
Professor Dan Russell - co-developer of the UCLA-3 loneliness scale
The panel will be moderated by Boaz Gaon, Founder & CEO of Wisdo Health.
In this 45-minute webinar, we will discuss:
Engagement as the Key to Improving Mental Health - In his book "Healing," Dr. Tom Insel describes lack of engagement as one of the largest problems of mental healthcare. Why? Can this trend be reversed at scale, and if so, how? What is the impact on physical health? Is community rather than clinical care the solution?
The Four Provisions to Address Loneliness - Professor Russell will share his research on the provisions of addressing loneliness, including key validated scales to measure loneliness, such as the UCLA-3, which Professor Russell co-developed. What are the 4 provisions of Social Health, and how can they be provided at scale?
Importance of Increasing Healthy Days and Community Resources - Humana's Bold Goal initiative has been a leader in addressing the impact of loneliness and other Social Determinants of Health. Jennifer Spear, Humana, will discuss the Bold Goal initiative and Humana's approach to addressing health-related social needs, provide highlights from Humana's recent pilot with Wisdo, and other new initiatives to raise awareness and address loneliness and social isolation.
Register now to reserve your spot.