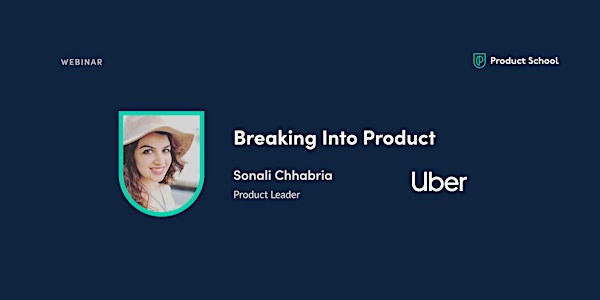 Webinar: Breaking Into Product by Uber Product Leader
Product School hosts free daily Product Management events with top professionals who are there to help you level up your career
About this event
DISCLAIMER: Register here to watch the stream or access the replay
What does it take to be hired as a Product Manager? How can you leverage your current skills to make the transition? There are a few things you need to learn about before you make the switch. Whether you come from marketing, UX/UI, engineering, or even business, you need to know a few things first.
Main Takeaways:
Understanding if Product Management is the right fit for you
Getting relevant PM experience in your current role without the formal title
Landing your first PM role, including preparing for interviews and finding the right role
Come join us on Launch! Product School's exclusive community for Product People to learn, exchange ideas and build better together.
Meet the Speaker: Sonali Chhabria

Sonali is super passionate about empowering people and driving change. Currently, she is a Product Manager of Eats and Courier Pricing at Uber.
The content of this event is for educational purposes only and does not include any specific facts of the presenter's current or previous company. The opinions expressed in this event are solely those of the presenter based on personal experiences and do not reflect those of the company the presenter works for.
Get the FREE Product Book and check out our curated list of free Product Management resources here

Product School is the global leader in Product Management training with a community of over one million product professionals. Our certifications are the most industry-recognized credentials by employers hiring product managers. All of our instructors are senior-level Product Managers working at top Silicon Valley companies including Google, Facebook, Netflix, Airbnb, PayPal, Uber, and Amazon.
Disclaimer: by registering for this event I agree to receive email communications from Product School and all sponsor brands.