This EIN Webinar will discuss the economic, technical, and environmental challenges and prospects of battery second life ventures.
About this event
Batteries are at the center of many key solutions to climate change. However, they remain expensive and with a limited lifetime. It is estimated that 26 GWh will be retired by 2025 and many players are looking into how to best tap into their latent value. This panel will discuss the economic, technical, and environmental challenges and prospects of battery second life ventures.
We will be joined by renowned panelists shown below:
Dr. Kai-Philipp Kairies, CEO from ACCURE Battery Intelligence GmbH
Kai-Philipp is a scientist and entrepreneur focusing on innovative storage solutions. He worked as a battery researcher and consultant in Germany, Singapore, and California. Since 2020, he is CEO of ACCURE Battery Intelligence GmbH, a research-led startup that supports companies in understanding and improving their batteries safety and longevity using advanced data analytics.
Zora Chung, CFO from ReJoule, Inc.
Zora is the cofounder and CFO at ReJoule, a battery diagnostics, and optimization company. Before founding ReJoule in 2017, she has spent 12 years in corporate finance at Clorox and Walmart eCommerce. She's created long-range strategic and financial plans, negotiated contracts, and evaluated new and existing business models, and optimized them for scalable growth. At ReJoule, she handles "all things not technical" including their budgets, human resources, legal, and marketing. Zora also manages ReJoule's blog which documents their learnings, progress, and obstacles on repurposing used EV batteries into a second-life application.
William Bergh, CEO from Cling Systems AB
William is the founder and CEO of Cling systems. Prior to starting Cling in 2020, he developed recycling strategies and designed battery systems for recycling at Northvolt. He attended Lund University where he founded the first electric formula racing team and studied Engineering. He is based in Stockholm.
Cling Systems is the B2B collection and trading platform targeting the end-of-life ecosystem for EV batteries. It enables circular value chains and connects the dots between sellers such as manufacturers, owners of used batteries, dismantlers, and workshops with buyers comprising recyclers, remanufacturers, and repurposers. Sign up to the Cling platform and follow their work on LinkedIn.
This panel will be moderated by our very own Leandre Berwa from Energy Innovation Network, who is also an Energy Modeler from SLS Energy.
Topics to cover:
Economics of the battery market and battery second-life
Retired battery market
Technical challenges around battery repurposing
Battery analytics for optimal usage, degradation monitoring, and safety
Agenda:
9:00 - 9:10am: Introduction to EIN and panelists
9:10 - 10:00am: Panel Discussion
10:00 - 10:25am: Q&A
10:25 - 10:30am: Closing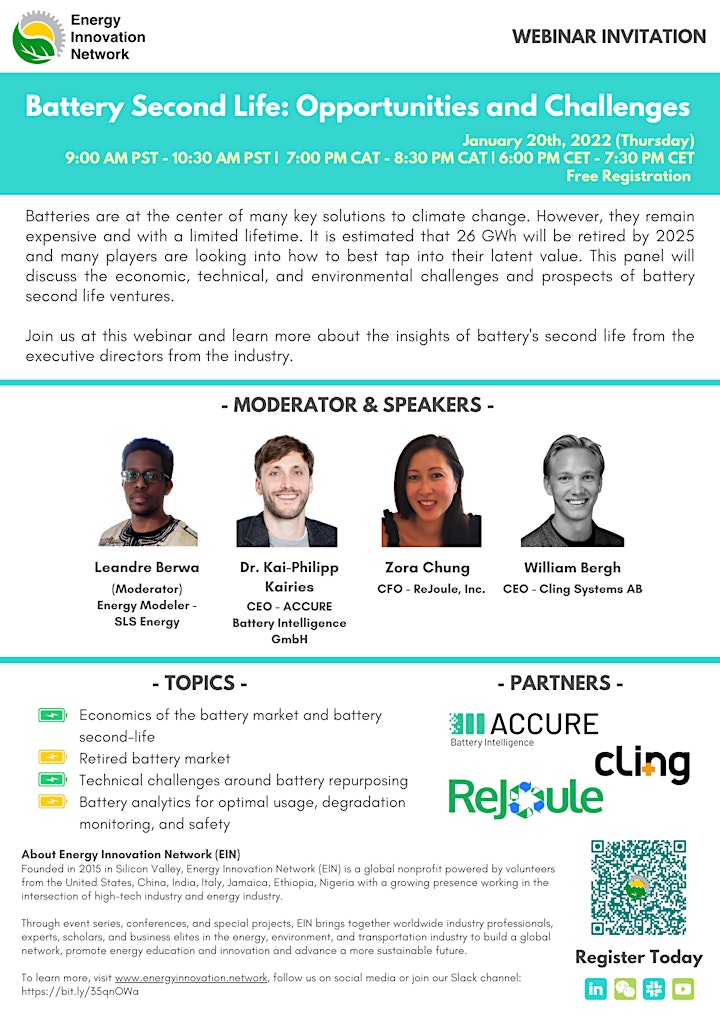 Organizer of Webinar: Battery Second Life: Opportunities and Challenges
Founded in 2015 in Silicon Valley, Energy Innovation Network ("EIN") is a global nonprofit powered by volunteers from the United States, Asian Pacific (China, India), and Africa with a growing presence working in the intersection of high-tech industry and the energy industry.
Through event series, conferences, and special projects, EIN brings together worldwide industry professionals, experts, scholars, and business elites in the energy, environment, and transportation industry to build a global network, promote energy education and innovation, and advance a more sustainable future. Learn more at https://www.energyinnovation.network/ or follow us on Linkedin, Wechat and Youtube.