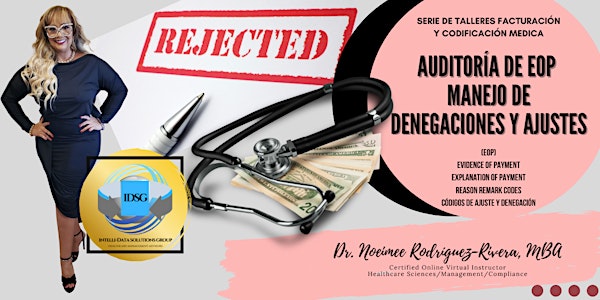 Webinar Auditoría del EOP - Manejo de Denegaciones y Ajustes
Webinar Auditoría del EOP - Manejo de Denegaciones y Ajustes
Refund Policy
Contact the organizer to request a refund.
Eventbrite's fee is nonrefundable.
About this event
Una auditoría de facturación médica a menudo se considera una medida defensiva o de respuesta a las aseguradoras cuando se deniegan o ajustan facturas. Cada caso tiene sus particularidades, pero desde el punto de vista del facturador, la meta va a ser siempre lograr recuperar y recaudar el pago en su totalidad.Por otro lado, para un proveedor de servicios de salud, las auditorías por parte de las aseguradoras siempre son una posibilidad. Tanto el gobierno como los pagadores privados monitorean constantemente a los proveedores para evitar fraudes, pagos en exceso y procedimientos de codificación o facturación inadecuados. Las auditorías pueden ser angustiosas e intimidantes, incluso si un proveedor está facturando correctamente.La facturación incorrecta puede dar lugar a sanciones civiles y penales. Para ayudar a aliviar parte de la tensión que rodea al proceso de auditoría, los proveedores deben ser proactivos y comprender qué tipos de auditorías existen y cómo prepararse para la posibilidad. Los proveedores también deben comprender cómo responder adecuadamente a una auditoría.