WEBINAR: Advanced Showbiz Timecards Film & TV Crew plus Hot Costs

Tuesday, February 16, 2016 at 10:00 AM
Event Details
Dig deeper into Showbiz Timecards and learn how it makes Hot Costing a breeze.
Simply type in the hours worked on a daily basis, and you can generate a daily labor Hot Cost for each day on your production. And when the week is over, you've already prepared 90% of your payroll for processing. A virtual lifesaver for payroll accountants on productions everywhere.
 Note: This webinar is designed for advanced users, or those who have already attended the intro webinar.
*To listen to the presentation you will need audio speakers. If your computer does not have good built-in speakers, you will need external ones to hear the presentation.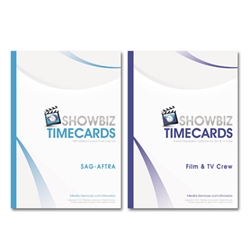 Please register for Showbiz Timecards Film/TV Crew by Feb. 16th, 2016 10:00 AM PDT at:
*After registering, you will receive a confirmation email containing information about joining the webinar.
Organizer
Showbiz Software / Media Services
MEDIA SERVICES is one of the entertainment industry's leading payroll, accounting and residuals companies, serving feature, television, commercial, music video, corporate and web productions worldwide. For more information visit www.media-services.com
SHOWBIZ SOFTWARE is the product division of Media Services that is committed to developing best-in-class software solutions. In addition to its proprietary production accounting, payroll, budgeting, scheduling and time management software, the company offers a wide range of other entertainment industry software at www.showbizsoftware.com
Any questions? Contact us here
WEBINAR: Advanced Showbiz Timecards Film & TV Crew plus Hot Costs