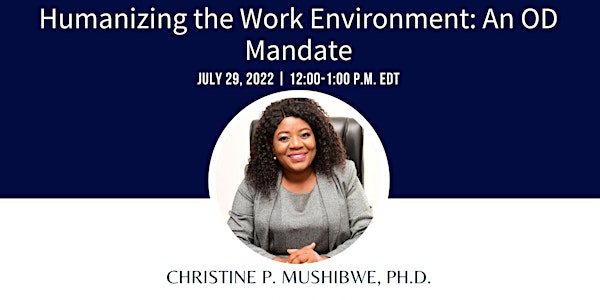 Webinar 30: Humanising the Work Environment. An OD mandate
Webinar 27: Humanising the Work Environment. An OD mandate
About this event
Overview
This webinar intends to demonstrate the value of humanizing the work environment and ensure that people function as human beings that have a human heart. The focus will be on different approaches to humanizing the work environment. Humanizing the work environment is an OD mandate. No sustainable development can take place in an organization that does not see the human in each employee. Seeing the human in every employee seem to be superseded by seeing work done and achieving the goals of the organisations. While there is so much effort by organisations to promote diversity and inclusiveness, victimization of certain groups is not absent. Victimization keeps people from self-empowerment, it keeps people 'small', and from expressing themselves as humans, fulfilling their potential, aligning what they do with their passion and purpose, and their unique life path. It is therefore important to humanize the workplace through inclusive leadership – this is about seeing the individual employee with their unique genius, with the talents, personal strengths, and passions they bring to the table.
Objectives
At the end of this program, the participants will be able to:
Appreciate and understand the value of Humanizing the work environment
Understand the different approaches to Humanizing the work environment
Apply the different approaches to improving the work environment
Target Audience
The webinar targets participants from any organization in leadership capacities and Organization Development, and Human Resource practitioners/professionals.
Outline
Introduction
Case study
Approaches to Humanizing the work environment
OD and Humanizing the Work environment
Question and answer
Short Bio of the Presenter
Dr. Phiri Mushibwe has an excellent record in academic and institutional leadership, having served in leadership in a number of Institutions. She is an ardent Educationist, and an experienced HR professional and Consultant. Dr. Phiri Mushibwe earned her doctorate from the University of Huddersfield, in the UK and has made an impact as a professional in higher education, winning the prestigious award of 'Africa's Most Influential Woman in Business and Government' by CEO Global, (in the education category), as Regional winner and Country winner in 2017, and 2018/19. This was in recognition of her impact in the number of institutions served in her own capacity and in her leadership roles. She currently was awarded the GARA's Award of Excellence for Global leaders for her passionate contribution to Social welfare towards the betterment of society and country.
Dr. Mushibwe has worked in various capacities in various Universities in England, and Zambia. She is currently the Vice Chancellor of Unicaf University Zambia. In a country that currently has 54 private Universities, Dr. Mushibwe is one of the very few female Vice Chancellors. She is founder member of an NGO called Training Teachers for Community Schools in Zambia (TTCSZ). And a co-founder of Lusaka Open Business College.
She is an author of "The Effect of Cultural Traditions on the Education of Women." Followers as a Key Variable in Organization Success published in German. She has published several Journals, articles and is a keynote speaker at conferences. Her focus is on Leadership and Organization Effectiveness, Organization Development, Human Resource Management, Female Education and Zambian Traditions. She is Chair of the Campaign for female education (Camfed) Advisory Board. She is also a member of Organization and Leadership and Network (OLDN) in Zimbabwe.