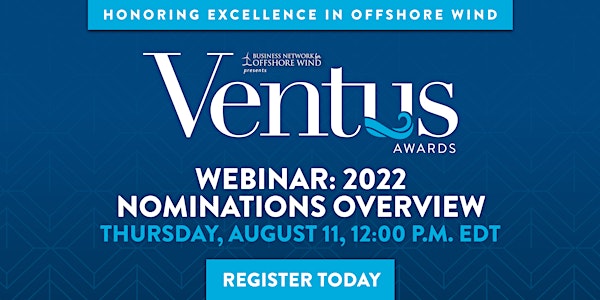 Webinar | 2022 Ventus Awards Nominations Overview
Webinar: 2022 Ventus Awards Nominations Overview
About this event
The Ventus Awards are the Business Network's highest level of professional recognition, celebrating the trailblazing people, companies, organizations, and work worldwide ushering in the global adoption of offshore wind energy.
In this webinar, Network staff will share an overview of the 2022 Ventus Awards categories, review the nomination submission process, and answer your questions. If you have been considering nominating a colleague or company for a Ventus Award (self-nominations also encouraged), make sure you attend this informational webinar to learn about the submission process. This webinar is free and open to anyone interested in learning more about the Ventus Awards.
Nominations for the 2022 Ventus Awards are open through September 19.
Upcoming Network Events
Ongoing: Education & Training Programs
September 27-28: OSW Port & Vessel Logistics Summit
November 9-10: OSW Grid & Transmission Summit
Charleston, South Carolina
November 17: Ventus Gala
January 19-20: OSW O&M/ Health & Safety Summit