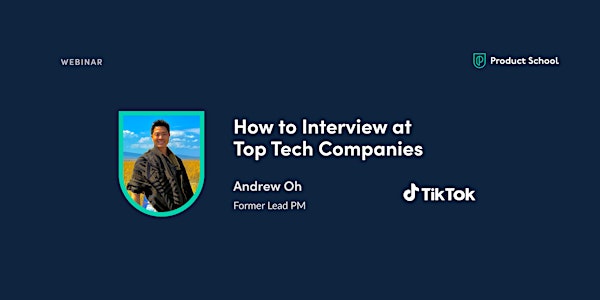 Webinar 2: How to Interview at Top Tech Companies by fmr TikTok Lead PM
Product School hosts free daily Product Management events with top professionals who are there to help you level up your career!
Date and time
Wednesday, June 14 · 6:30 - 7am PDT
About this event
DISCLAIMER: Register here to watch the stream or access the replay
This webinar is part of a special 5-part series by former TikTok Lead Product Manager, Andrew Oh. Follow this link to catch up on all the sessions you may have missed.
Episode 2: Product Execution (Part 1) - Define metrics
Learn how to solve metric definition questions such as 'As a PM at TikTok, how would you define success for TikTok For You Page?'
In these sessions, product managers will learn how to tackle interviews at almost all company sizes. It will teach them how to break down problems, use advanced frameworks, and interview strategies that will help them excel in the interview process. Considering the vast amount of material, each session will focus on a specific topic to ensure thorough training for the viewers.
Main takeaways:
Interview as a top 1% candidate at Tier 1 tech companies
Build the frameworks required to ace the hardest interview questions, and how to go deep with follow-up questions
Develop interview strategies that will make you stand out and increase your chances of passing each round
Meet the Speaker: Andrew Oh
Andrew is a tech fanatic with a strong combination of startup methodologies and Product Management skills. Recently, he has worked as Lead Product Manager at Bytedance, a technology company operating a range of content platforms, such as TikTok.
The content of this event is for educational purposes only and does not include any specific facts of the presenter's current or previous company. The opinions expressed in this event are solely those of the presenter based on personal experiences and do not reflect those of the company the presenter works for.
Get the FREE Product Book here and check out our curated list of Product Management resources here
Product School is the global leader in Product Management training with a community of over one million product professionals. Our certifications are the most industry-recognized credentials by employers hiring product managers. All of our instructors are senior-level Product Managers working at top Silicon Valley companies including Google, Facebook, Netflix, Airbnb, PayPal, Uber, and Amazon.
Disclaimer: by registering for this event I agree to receive email communications from Product School and all sponsor brands.
About the organizer
Product School is the global leader in Product Management training with a community of over two million product professionals.
All of our instructors are Product Leaders working at top Silicon Valley companies including Google, Meta, Netflix, Airbnb, Uber, and Amazon.
Designed to fit into the work schedule of busy professionals, all certifications are taught live online in small cohorts.
Our methodology incorporates the hands-on activities, real-world case studies, tools, and frameworks needed to build digital products from end to end and lead cross-functional teams. Students receive personalized instructor feedback and career coaching to get a product management job or promotion.
In addition to the public certifications, Product School offers custom training for companies seeking to boost revenue by upskilling their teams and retaining top performers. 
We are committed to pushing the Product Management industry forward. With this aim in mind, we published the Amazon bestseller, The Product Book, host over 1,000 free events per year, The Proddy Awards, and ProductCon, the largest multi-city conference in the world for product managers.