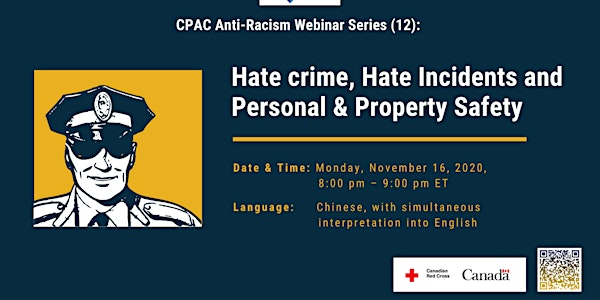 Webinar (12): Hate crime, Hate Incidents, and Personal and Property Safety
Charter of Rights; What is hate crime/incident; Criminal Code of Canada; First response; Tips for reporting a hate crime; How do you...
Date and time
Mon, Nov 16, 2020 5:00 PM - 6:00 PM PST
About this event
In response to the recent rise of anti-Asian racism during the Covid-19 pandemic and to help Asian Canadians better deal with racist harassments, CPAC has assembled a group of experts from across North America to present a series of educational webinars for the community in both English and Chinese. The topics include: Racism and Its Visible and Invisible Forms, Discrimination and Human Rights, Responding to Racist Harassments and Attacks, Bystander Intervention, Preventing Racial Bullying in School, and Racism, Hate Crime and Personal and Property Safety.
This webinar series has been well received by the community. At the request of the audience, we are presenting another round of the seminars and workshops. These webinars will also be recorded. The recordings will be edited and shared at the end of the series.
On November 16, 2020, we will be presenting Const. Mason Zhou again from the Diversity, Equity and Inclusion Bureau of York Regional Police. This time he will be speaking in Chinese on the topic of Hate Crime, Hate Incidents and Personal & Property Safety. His presentation will be simultaneously translated into ENGLISH.
This interactive webinar will cover the following important topics.
• Charter of Rights
• What is hate crime/incident?
• Criminal Code of Canada
• Your first response
• Tips for reporting a hate crime
• How do you protect your personal safety?
• What can you do to prevent break and enter to your house?
Date: Monday, November 16, 2020
Time: 8:00 pm – 9:00 pm Eastern Time (US & Canada)
Languages: Chinese, with simultaneous interpretation into English
Please register here!
(Note: Our webinars will be recorded. If you cannot attend the live session, complete the registration form and a link to the recording will be emailed to you at a later date.)
Presenter:Const. Mason Zhou
Constable Mason Zhou is part of the Diversity, Equity and Inclusion Bureau of York Regional Police. He completed his undergraduate degree in Justice Study and a Master's degree in Leadership at University of Guelph. An immigrant from China, Const. Zhou has a wide range of experience in both private and public sectors. His 12 year tenure at YRP covers Uniform, Criminal Investigation Bureau and involvement in special investigation units, prior to his current assignment to DEIB. He was also the designated writer of a police column in the Singtao newspaper on federal and provincial laws and various community issues during 2017-2018. Over the years, he has attended to numerous TV interviews on behalf of YRP to address certain issues and concerns in the community. During the Covid-19 pandemic, Const. Zhou was also seconded to the Hate Crime Unit to assist it in dealing with the spike of hate incidents and hate crimes in the Region.
The CPAC Anti-Racism Webinar Series is funded by the Government of Canada through the Canadian Red Cross.

CPAC应对种族歧视行为系列讲座之十二:
约克区警局反歧视专员教你认识仇恨罪以及如何保护自己与财产安全
时间:2020年11月16日,星期一晚上8点(加东时间)
语言:普通话讲座、英文同声传译
请在本网站注册!
(注:我们的网络研讨会将被录屏。如果您不能参加现场会议,请填写注册表格,在整个系列讲座结束后,我们会通过电子邮件将录像链接发送给您。)
为帮助社区应对Covid-19疫情期间频繁抬头的针对亚裔的种族歧视问题,加拿大中国专业人士协会(CPAC)在美国和加拿大聘请了多位资深专家,通过视频为大家举办一系列的中英文讲座,内容囊括种族歧视及如何应对与处理的方方面面,例如种族歧视和仇恨罪及其表现方式,遭遇种族歧视如何应对,目击者如何正确协助,校园种族歧视和霸凌行为的应对和处理等等。
本系列讲座举办后,受到广泛好评。应听众要求,我们再次邀请讲座专家为大家讲解有关问题。
11月16日周一晚8点,我们将再次邀请约克区警局华裔反歧视专员Mason Zhou警官,这次以普通话给大家讲解如下内容:
- 人权发展简史及人权宪章
- 仇恨罪案与仇恨事件
- 加拿大刑法有关条款
- 事件发生时的应对办法
- 仇恨罪案的报案详解
- 保障个人安全的注意事项
- 防止入室盗窃的各种措施
本场讲座将用中文讲解、英文同声传译。请在本网站注册。
主讲人简介
周警官目前任职于约克区警察局以反歧视为主的多元、公平与共容部。他于二十多年前从中国来到加拿大,从圭尔夫大学获得司法学学士和领导学硕士学位。周警官具有公共部门和私营公司两方面的工作经验,在约克区警队12年任职期间,历经巡警、刑侦以及特别调查部,直至现在的反歧视部门。周警官作为约克警队的代表多次参加电视台采访,就社区的相关问题发表意见,并于2017至2018年间负责撰写星岛日报关于联邦和安省法律及社区问题的专栏。新冠病毒流行以来,周警官被借调到仇恨犯罪部兼职以协助处理日渐增多的仇恨事件和仇恨犯罪案件。
本系列讲座均由加拿大联邦政府通过加拿大红十字会提供资金支持。
About the organizer
CPAC is a non-profit organization serving a community of internationally trained professionals. For over two decades, CPAC has been helping immigrants with employment and career advancement, gaining necessary credentials, and accessing international business opportunities. CPAC is also an organization that assists them with cultural integration into Canadian society. The organization now has over 30,000 members from various cultural and ethnic backgrounds with a wide range of professional training and skills. CPAC members get access to a comprehensive package of services and benefits to enhance their life in Canada.