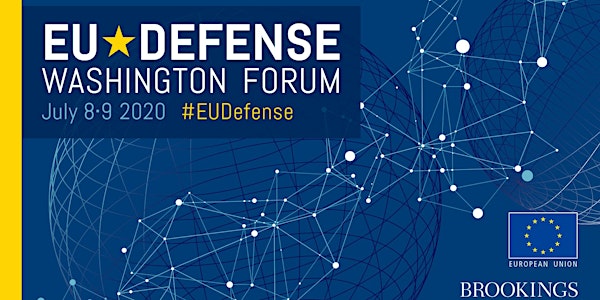 Webcast: EU Defense Washington Forum
Please register to receive updates and a link to the EU Defense Washington Forum webcast.
About this event
The EU Defense Washington Forum will be held online on
July 8, Wednesday, 9:00 a.m. -1:00 p.m.
July 9, Thursday, 9:00 a.m. - 1:00 p.m.
The EU Defense Washington Forum, organized by the European Union and the Foreign Policy Program at the Brookings Institution, will convene leaders, policy makers and experts in the field of security and defense from the United States and the European Union for a virtual discussion on the pressing security matters facing the transatlantic community.
With the ongoing COVID pandemic contributing to global instability, taking a toll on national budgets, and raising questions about the definition of threats to security and how to address them, defense officials all over the world are forced to reckon with this new normal, and the new challenges that come with it.
This year's forum will discuss the impacts of COVID on transatlantic security, as well as other timely topics such as addressing the technology challenge from China, defense spending and capabilities, EU-US-NATO cooperation, deterrence, non-proliferation and arms control.
In its 9th year, the annual EU Defense Washington Forum is known for bringing together thoughtful insight and strategic perspectives from both sides of the Atlantic.
For full schedule and list of speakers please visit:
https://www.brookings.edu/events/webinar-eu-defense-washington-forum/
If you are a US defense stakeholder and have specific questions about this event, please email: Zach.Mellen@eupopusa.com