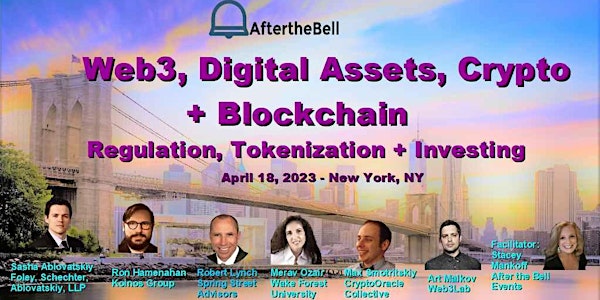 Web3,Digital Assets,Crypto,Blockchain: Regulation, Tokenization, Investing
An informative and engaging panel on regulatory initiatives, tokenization & investment opportunities in financial innovation.
Date and time
Starts on Tuesday, April 18 · 6pm EDT
Location
Starta Ventures 220 East 23rd Street Suite 400, 4th Floor New York, NY 10010
Refund Policy
Contact the organizer to request a refund.
Eventbrite's fee is nonrefundable.
About this event
After the Bell Panel Discussion & Networking Event
Web3, Digital Assets, Crypto, Blockchain: Regulation, Tokenization, Investing
The Blockchain space is undergoing a complete transformation. You may have heard about some of the issues, but many new Web3 projects and directions are being developed behind the noise. Our panel will explore how it all ties together and how you can be ready for the next upmarket. Packed with visionaries and trailblazers in the Web3 space, have many of your pressing questions answered on April 18th. Issues addressed include:
What's the landscape like now after FTX, SVB?
What regs are in the works? How will they not impede innovation?
What are the new directions that web3 companies are exploring?
Is Web3 still viable? What can it do? How will tokenization impact everything? Can tokenization be decentralized?
How much tokenization is needed?
What are VCs and Institutions looking for when investing?
What's next?
Panel:
Art Malkov, Co-Founder, Web3Lab
Max Smotritskiy, Founding Partner, CryptoOracle Collective
Merav Ozair, PhD, Affiliated Faculty, New York University; Advisory Board, INATBA (International Association for Trusted Blockchain Applications)
Robert Lynch, Principal, Spring Street Advisors
Ron Hamenahan, COO, Koinos Group
Sasha Ablovatskiy, Partner, Foley Shechter Ablovatskiy LLP
Facilitator: Stacey Mankoff, Managing Principal, The Mankoff Company; Founder, After the Bell Events; Creator & Producer, The Bellringer
As with all After the Bell events, it is not recorded or streamed. To get the most out of this program, be there!
6:00 Registration
6:15 Panel Commences
Networking Reception Immediately Follows Panel Discussion
About the organizer
The Mankoff Company has 25+ years of experience in marketing, training, sales and public relations within the financial and FinTech community. Our firm has become the leader in providing marketing, education and training to the global Financial and Technology community with a variety of services tailored to our clients' needs. Known as a connector within the industry, we have established our firm as the "go-to" place for those interested in raising their profile, establishing business and client relationships, industry education and as a resource for media outlets targeting this community. We continuously grown and develop our global database of contacts.
Besides our contacts within the financial community with institutions, wealth management firms, asset management firms, hedge funds and more, we have also been involved in the crypto space for 8+ years and solidifying our presence in the market space for digital currencies and blockchain.
The Mankoff Company also produces its signature 

 events, targeted and timely FinTech panel discussions which have been tackling top-of-mind issues for 8+ years and making complicated topics approachable.