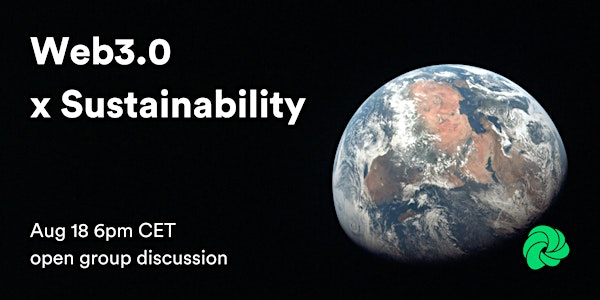 Web3 x Sustainability: group discussion
How do Metaverse, NFTs, and blockchain bring new challenges and solutions to Sustainability? Let's discuss! ✌️
About this event
The climate crisis is arguably the most pressing challenge our civilization has faced. It is common to analyze pretty much every popular practice through the lens of sustainability and Web3.0 is no exception. So, what is the impact of blockchains, the Metaverse, and NFTs on the environment? How can we use this technology to manage climate change?
Let's discuss! You don't have to be an expert to have valid concerns and ideas about the topic. And, of course, we believe in the unique effectiveness of collaborative learning in the absence of rigid structures. The meeting will have a host and some questions for the discussion but the natural flow of conversation will always be given priority 👌

How to participate:
Step 1. Become a member of the NeuralJam learning community.
Sign up using the link: neuraljam.com/register - get a chance to become one of our early members and enjoy 12 months free of charge!
NeuralJammers are a driving force of our club - their unique talents, interests, and contributions shape our collective learning experience. Join to learn, challenge yourself, discover your hidden passions, and develop the existing ones - in a constant flow of curiosity and collaboration! 💡🤩
Step 2. Join the 'Metaverse and Beyond' group.
Join the group of Web3 enthusiasts on NeuralJam. We discuss all things Metaverse, NFTs, and Blockchain! Whether you are someone who is working in the field or are just curious to learn more about the topic - you are welcome to join us! 👋

Got questions or need support? Reach out to Arina - arina@neuraljam.com and she will help you out!