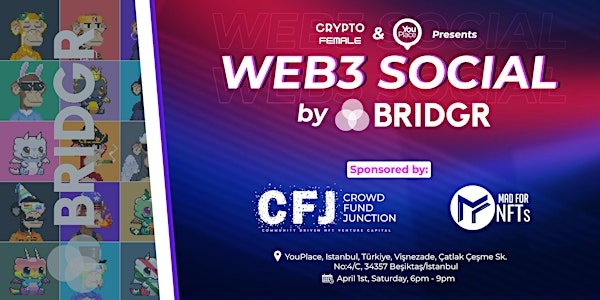 WEB3 SOCIAL BY BRIDGR: ISTANBUL 01.04.2023
Web3 thought-leadership & chill networking for blockchain enthusiasts in Türkiye. Sponsored by CrowdFundJunction & MadForNFTs.
Date and time
Sat, 1 Apr 2023 18:00 - 21:00 +03
Location
YouPlace Vişnezade, Çatlak Çeşme Sk. No:4/C Istanbul, 34357 Turkey
About this event
Come network and learn from Web3 thought-leaders in Türkiye!
On April 1st, CryptoFemale and YouPlace are hosting WEB3 SOCIAL BY BRIDGR in Istanbul with focus on solidarity and donations through Web3 initiatives.
Speakers include Hilal Baktas & Sima Baktas (CrytoFemale), Berkay Ermiş & Vusal Ismayilov (Yeklabs), and Ceren PATRON (Lotus Presents).
You can read more about the event via BRIDGR's MEDIUM blog: WEB3 SOCIAL on April 1st in Istanbul: Solidarity & Donations through WEB3.
Join us!
We can't wait to see you on April 1st from 6pm to 9pm at YouPlace (Vişnezade, Çatlak Çeşme Sk. No:4/C, 34357 Beşiktaş/İstanbul, Türkiye)
Ticket holders will enjoy coffee, tea, and snacks on us.
Sponsored by
About CrowdFundJunction (CFJ)
CFJ is a Crypto NFT DAO Community Venture Capital . We help crypto startups through advisory, funding, and marketing.
Join our DAO and participate In Highly Vetted Crypto Token Offerings with Collective Intelligence. For more details visit www.crowdfundjunction.com
About MadForNFTs (MFN)
MFN is a Crypto Event Organiser and NFT Launch Partner for Brands , Celebrities, Fashion, Art and Influencers . We are here to help you create , launch and market your NFTs.
Connect with us for your crypto Events and to launch and sell out your NFTs. For more details visit www.madfornfts.com
About BRIDGR
BRIDGR is a collective of Web3 companies offering a unique collaborative platform to accelerate your Web3 growth and help you become a successful business.
WEB3 SOCIAL BY BRIDGR
WEB3 SOCIAL BY BRIDGR is a global event platform for anyone looking to learn more about Web3 and grow their network.
Our mission
BRIDGR aims to build a thriving and collaborative Web3 ecosystem that is driven by the right motives. We believe that by bringing together a community of like-minded and well-established Web3 enthusiasts, we can drive innovation and collaboration towards a more equitable and decentralized future. Together, we are determined to build a better Web3 for all.
Our Alpha Partners
Agenda
6:00 PM - 6:15 PM
Keynote by CryptoFemale
---
Topics include examples of solidarity in Web3, NFT collections, cryptocurrency donation and NGO cooperation, and the importance of crypto assets in disasters and emergencies.
6:15 PM - 7:00 PM
Introduction to "Crypto Conditional Donation Platform" by Yeklabs
---
Keynote by Berkay Ermiş & Vusal Ismayilov, co-founders of Yeklabs
7:00 PM - 7:30 PM
Raising funds for donations through NFT sales by Lotus Presents
---
Keynote by Ceran PATRON, co-founder of Lotus Presents
7:30 PM - 9:00 PM
Networking
About the organiser
The best of Web3 in one place!