WEB TV WORKSHOP - SPRING - WEEKEND SEMINAR
When and where
Location
ShowBiz Software Store and Cafe 500 S Sepulveda Blvd Los Angeles, CA 90049
Refund Policy
Contact the organizer to request a refund.
Description
WEB TV WORKSHOP
WEEKEND SEMINAR
UPCOMING EVENTS:
Saturday April 27th from 11am-6pm
Sunday April 28th from 11am-6pm
@ The Show Biz Software Store and Cafe Los Angeles
UPCOMING WEEKEND SEMINARS: June, August, October
What is WebTVWorkshop?
WTVW Seminar is designed to introduce students to the revolutionary space of WebTV. With the advent of Youtube, Google TV, set top boxes, smart phones, tablet devices and new distribution platforms, creatives have a unique opportunity to develop, market, and monetize their content on the web and become key players in the digital future. Students learn from the top in the new media industry about the creative, technological, and marketing/business aspects of producing content for the web. Industry professionals in digital advertising, law, and branding teach students how to leverage their content. On completion of the course, each student leaves inspired, informed and ready to create and pitch a successful webseries with business savvy. Whether you are the seasoned or aspiring filmmaker/ actor/ writer/ director/ producer, WTVW has the cutting edge curriculum to give you the tools needed to be successful on the web.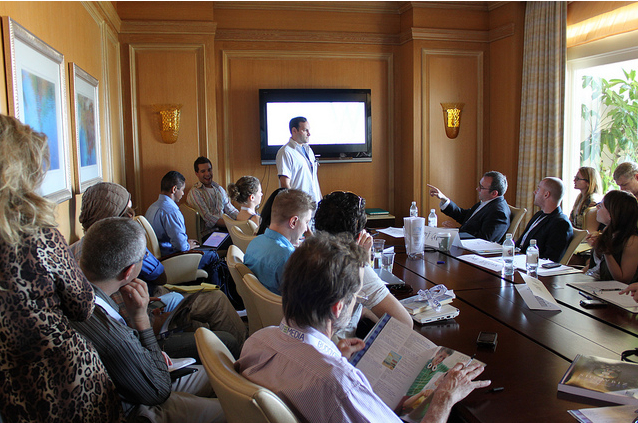 SEMINAR TOPICS
SATURDAY
FROM 11AM-1PM
Pitch/Strategy/Creating a One Sheet / Pitch Package / Pitch Site
FROM 1pm-2pm
In Class Speaker New Media Union Rep from SAG / AFTRA
LUNCH 2pm-3pm
FROM 3pm-5pm
Production / Contracts / Legal / Becoming a member of DGA, PGA, WGA
FROM 5PM-6PM
In Class Speaker New Media / Entertainment Attorney
SUNDAY
FROM 9am-11am
Branding / Digital Distribution / Hyper Syndication / Crowd Funding
FROM 11am-12pm
In Class Speaker TBD
LUNCH 12pm-1pm
FROM 1-3pm
VSEO / SEO / Product Placement / Events and Promotional Strategies
FROM 3-4pm
In Class Speaker: Digital Advertising Planner / Buyer Exec. / 19 Forms of Monetization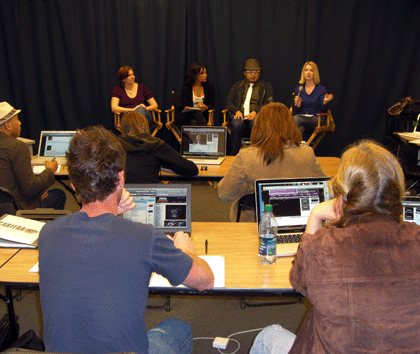 Connect. Collaborate. Create.
Our mission at WTVW is to empower you with the knowledge and tools needed to create a successful web series. We believe you have a unique voice and know that the web is the space where you can freely express it. We believe in your authenticity. We believe in change, originality andbeing smart about the way you create. Armed with the understanding of the technology of this space and strategizing your creative approach you can be successful in this revolutionary medium. Quite simply we believe in you and we do this because we love it.
Who is WebTVWorkshop?
Diahnna Nicole Baxter is the Emmy Award-Winning actress/writer/executive producer from the sci-fi thriller SATACRACY 88. A pioneer of the web, Diahnna Nicole Baxter co-created, co- wrote and starred in SATACRACY 88, the first web series to win an Emmy Award, and was nominated again the following year. Simultaneously she also took home the Peoples Voice 2007 Webby Award in on-line drama, (Noted as the Oscars of the internet by the New York Times) and was named an Official Honoree of the 2008 Webby Awards. Diahnna is a graduate of Duke University. In New York City she trained extensively in the Stanislavski method at the Elaine Aiken Actor's Conservatory and performed in many off-Broadway shows, commercials and film. A member of the LA Writers Lab, she is currently writing a biopic about Billie Holiday. She is a member of the Producers Guild of America. Diahnna is proud to bring the knowledge of making revolutionary content on a shoestring budget to WebTVWorkshop.
Damian Pelliccione has Produced over 15 web projects, 5 shorts, 2 Feature Films and 3 commercials. Damian is Developing SITCOM SONS starring Jeremy Miller (Growing Pains) and Michael Fishman (Roseanne). Damian's company is also developing UNTITLED SANDRA BERNHARD WEB - SHOW. Damian recently produced Taylor Negron's (Fast Times at Ridgemount High & Bio-Dome) original Web Series THE FORECLOSURE Staring Taylor Dayne (80's Pop Singer), Taylor Negron and Elisa Donovan (Clueless). Damian's company is currently Producing www.iamcartera.com first ever interactive gay sc-fi super hero series. Damian Associate Produced and Cast www.inthemoment.tv a gay men's HIV prevention and health campaign funded by The City of West Hollywood and Los Angeles Gay and Lesbian Center. Currently in its 3rd season the serial was advertised on the side of buses, Bilboards and Bus Stops. Damian has also worked in traditional media Line Producing For CMT Canada a Clip Show called CMT STAR. Damian also Hosted and Segment Produced original non-fiction reports for Broadband Networks and VJIam for CBS and So Media. Damian was the consulting producer on the Disney Feature Film "Elle - A Modern Cinderella Tale". Damian Created and Currently host's Los Angele's 1st Entertainment and Tech Mixer NEW MEDIA VAULT. Now in its third year NMV has over 20, 000 attendees and members and social followers and fans of over 100k. Damian also Event Coordinated the After Party to The 2009 Streamy Awards (Web TV Awards) with www.tubefilter.tv. Damian Currently sits on and founded the LGBT National Committee at the Screen Actors Guild. Damian also served on The New Technology National Committee at The Screen Actors Guild. Damian is a member of the IAWTV (International Academy of Web TV). Damian is also a member of The Producers Guild of America New Media Council and co-chairs the Broadband Committee. You can follow Damian on Twitter at @DamianMedia
Testimonials
Whether you are the seasoned filmmaker or the aspiring actor/ writer/ director/ producer, WTVW has the cutting edge curriculum to give you the tools needed to be successful on the web. See what our Alumni have to say…
"I took WebTVWorkshop because I
want to be on the cusp of the Internet,
there is a revolution happening right
now...we have full control, all of the
creativity in the world. Come to
WebTVWorkshop to actually get a little
ahead of the game." – Dennis Dortch
Sundance Award Winning
Filmmaker/Director
"WebTVWorkshop was an amazing
experience for me… they gave me the
ins and outs to everything I needed to
know in producing my own series…not
just for web series but for producing
anything, film and TV. The instructors,
Damian and Diahnna are not only
friendly and informative but really,
really cool and great to work with and I
hope to work with them in the future."
– Craig Blair (Cannes
Filmmaker/Actor)