WEB CLASS: Subtle Energies of Essential Oils with Olivia MacMillan
Description
Aromatherapy can be a powerful healing tool for the physical body. Oftentimes we can neglect the needs of the energetic body; ex. our minds and emotions. Complex health issues often begin in the energetic body long before the physical symptoms manifest. Join Olivia MacMillan, Registered Aromatherapist, for a glimpse into the world of subtle aromatherapy and how 5 incredibly versatile essential oils can help keep our minds, hearts, AND bodies healthy.
Webinar link will be e-mailed to students 30 minutes before class begins.

Please note: This class is online only. It will not be taking place at the shop. Thanks :)
---
About the instructor: As a little girl, Olivia used to take the little nurse's kit that her mother had given her and cover an elderly neighbor with Band-Aids while dispensing candy aspirin. Little did she know that sweet playtime was her first step onto the path of her destiny as a healer. Olivia had a consciousness awakening in 2010 which led her to her destiny as a Reiki practitioner of which she is a Usui/Holy Fire Reiki Master. Still not feeling finished, Olivia found her calling with aromas and went through an extensive certification program to become a Registered Clinical Aromatherapist and her affinity for all things natural led her to also seek her certification as a Crystal Healer and to become an Herbalism student. Next up for Olivia as a healer, she says she wants to change the world, one balanced, self-healing spirit at a time.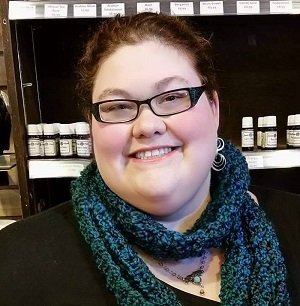 Save
Save
Save
Save