WEB CLASS: Creative Solutions for Uterine Fibroids with Claudia Joy Wingo
Description
This webinar explores herbal and dietary strategies to manage and reduce uterine fibroids. An extremely common condition seen in many women, fibroids can cause a multitude of issues from extensive menstrual bleeding, anemia, infertility, back pain and urinary incontinence. Join Claudia Joy Wingo, RN & longtime Clinical Herbalist as she guides you through herbal recipes, for both internal and external use. Booklet with webinar notes and recipes included in price.
Students will be emailed webinar registration link 20 minutes before class begins.
---
Claudia Joy Wingo, MPH, PGDipTropMed, BSN, RN, DMH, , CN FNHAA
Claudia's long time interest in edible plants and herbalism was sparked by both her grandmother, a herbalist in the Ozark Mountains of Missouri and her botanist father.
Her history with the Smile Herb Shop goes back to the late 70's when she first took a garden herb class with Tom Wolfe. Claudia has been working in the Natural Therapies field for over 40 years, first as a Natural Foods Chef, starting a catering service called "Mother Nature on the Run' back in the 70's.
After completing her Chef's apprenticeship in the US and Europe, she travelled to the Middle East, apprenticing with a Yemenite herbalist in Israel and then onto Australia where she received Diplomas in Botanical Medicine, Nutrition, Naturopathy and Therapeutic Body Work in 1981. She became an RN in 1984, worked as a hospital based RN for 12 years in Australia and then in Central America on public health programs. She completed a Bachelor of Applied Science, Nursing at University of Sydney in 1994 and a Master of Public Health in 2011.
She is a practicing Clinical Herbalist, RN, Chef, Certified Naturalist and Public Health Educator and is currently the Program Director of the Master of Science, Health Promotion at Maryland University of Integrative Health.
Her herbal home will always be at the Smile Herb Shop where she has had her practice since 1995. She is the coordinator and senior instructor for professional herbalist course at the Mid-Atlantic School of Herbalism based there.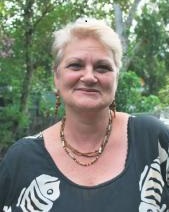 Save