WEB CLASS: Bitter Herbs: The Key to Digestive Health, with Betsy Miller
Actions and Detail Panel
WEB CLASS: Bitter Herbs: The Key to Digestive Health, with Betsy Miller
Tue, December 13, 2016, 7:00 PM – 8:30 PM EST
Description
Many health practitioners believe that the secret to optimal health is through the gut; one of the primary ways that herbalists improve digestive health is through the use of bitter herbs to enhance nutrient absorption, stimulate liver function and increase elimination of wastes. Join clinical herbalist & nutritionist Betsy Miller to learn about several of the most effective bitter herbs and how they influence digestive function, as well as how to incorporate the taste of bitter into your daily life to optimize your digestive health.
Features of Class:
- Comprehensive overview of digestive system physiology, including signs & symptoms of imbalance
- Understanding of how digestive system function affects other body systems and overall health
- Exploring several bitter herbs and how they can be used to optimize digestive function
Benefits of Class:
- Learn how to incorporate digestive bitters into your daily routine to constantly support gut health
- Discover how to choose which digestive bitters are best for you
- Learn how to combine different types of bitters and create your own recipes
Students will receive an email with the webinar registration link 30 minutes before class begins.
Please note- this is an online class and is NOT taking place at the shop.

---
Betsy has always been drawn to the healing arts and the natural world. She began her self-study of herbal medicine in 2001, reading anything and everything she could on the subject of plant healing, and taking classes wherever she could find them. Drawn by her desire to be closer to nature, she attended the University of Vermont and completed her undergraduate studies in Environmental Science and Ecological Agriculture, focusing on forest gardening with wild edibles and medicinals. During this time she also completed her 200 hour training in Vajra yoga, and taught for several years in the Burlington area. Desiring to pursue her study of herbal medicine, Betsy received her Masters of Science in Medical Herbalism from the Maryland University of Integrative Health. She currently practicing as a clinical herbalist, licensed nutritionist and Healing Touch practitioner in the Washington D.C. area. She is focusing her practice on supporting fertility and reproductive health, immune system health and digestive health.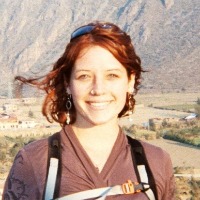 Save
Save