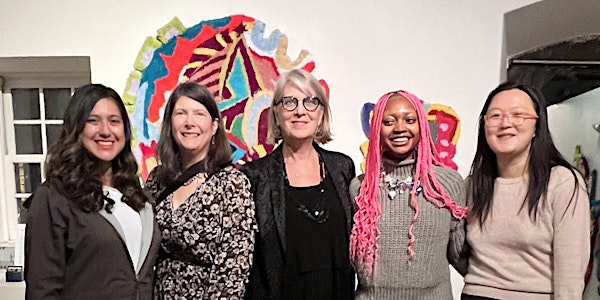 Weaving Together: Artists' Panel for Belonging Textile Art Exhibit
Artist's panel & conversation exploring ideas & processes behind the textile artwork of Kimberly Bush, Stephanie Eche, Traci Johnson
When and where
Location
Old Stone House of Brooklyn 336 3rd Street Brooklyn, NY 11215
About this event
Join us for an Artists' Walk-through and Panel for BELONGING, a Textile Art Exhibition. Meet artists Kimberly Bush, Stephanie Eche and Traci Johnson and learn more about their textile art processes and philosophies. Learn about their techniques in weaving, hand embroidery and stitching, natural dyeing and tufted work, traditional and new processes that they use to create their contemporary work. Engage with artists and curators as we discuss how art can both represent and reflect themes of belonging, community, family connections in a wide range of emotions.
With BELONGING, the Old Stone House and Why Not Art present an intergenerational and diverse group of artists who use textiles to explore topics of community, family, self-love and joy as well as tensions stemming from displacement, isolation and grief. Come see the rich and varied textures of the textile work - knots, tufted rugs, felted wool, and subtle stitches in a mix of natural and bombastic colors. This program will offer insights to the techniques used to create the artwork as well as the artists' intentions in their work. We will connect the artistic themes of the show to broader topics of community and how each of us finds a way to belong.
Artists' Panel: Sunday Feb 12 from 12-2pm (in-person, masks are requested)
Exhibit currently on view until Feb 12 (closing date) - see theoldstonehouse.org/exhibitions/ for viewing hours
The Old Stone House, 336 3rd St, Brooklyn (btw 4th and 5th Ave/Washington Park)
PROGRAM:
12:00-12:30 Artists' Walk-through. Each artist will talk about their work in the gallery, highlighting attributes, process and backgrounds for their work.
12:30-1:10pm Artists' Panel. Curator Grace Freedman of Why Not Art will moderate and ask each artist questions about their work and connect it to broader themes. Katherine Gressel will be on hand to introduce the Old Stone House contemporary art program.
1:10pm-1:40pm Audience Questions for the Panel
1:40pm-2pm Informal Mingling and Conversation with Artists and Curators
About the Artists:
Kimberly Bush (she/her) is an artist and art therapist with over 30 years experience. Her practice of weaving fibers, mending torn and frayed edges, sewing fabric patches and pieces together, figuratively and literally, demonstrates the interconnectedness among humans. IG @kimberlybrooklyn
Stephanie Eche (she/her) uses found materials and natural fibers to create sculptures that investigate cultural identity, time, and memory. Her processes are intentionally labor and time-intensive, allowing her to reflect on the erasure of indigenous cultures as a result of colonization and capitalism, including the assimilation of her Chicana family. IG: @stephanie_eche
Traci Johnson (they/them) is an artist and fashion model who presents bold, colorful abstract sculptural creations that bring a sense of euphoria and vibrant energy to the exhibit. The works embody the texture, softness and comfort of textiles while promoting healing, self-acceptance and self-love; they truly create a safe space for all. IG: @kailuaa @rugsbykailuaa
About the Curator: Grace R. Freedman, PhD (she/her) is a founder of Why Not Art which celebrates the vitality of the Brooklyn arts community by presenting interdisciplinary art shows in alternative spaces to reach expanded and diverse audiences.
CONTACT for more information - All Artworks are for Sale at whynotart.com - a portion of the proceeds support The Old Stone House.
Grace Freedman, Why Not Art, grace@whynotart.com; 718-858-4847, IG @whynotartnyc
Kim Maier, The Old Stone House, info@theoldstonehouse.org; IG: @oldstonehousebklyn
Artwork Images below:
Top - Traci Johnson
Middle - Kimberly Bush
Bottom - Stephanie Eche