Sales Have Ended
Registrations are closed
Whoa! Looks like we've sold out. Please visit www.islandwood.org/events to see what else is happening soon.
Sales Have Ended
Registrations are closed
Whoa! Looks like we've sold out. Please visit www.islandwood.org/events to see what else is happening soon.
Description
Learn the basics of "weaving from the wild" as Melinda West guides you through several small plant fiber projects designed to engage learners of all ages with plants in Pacific Northwest landscapes. The Salish Peoples have always known how to use NW plants in fiber technologies such as cordage-making, mat-making, basketry, branch-work, blanket and garment weaving. These technologies are just a small part of the Traditional Ecological Knowledge Bank that is passed from generation to generation informing ethics and practices for the uses of plants. The Pacific Northwest landscape was highly valued and intentionally cultivated and preserved by the Salish Peoples as a place from which everything needed for a rich material and cultural life was available.
Melinda will pass on some of the important lessons she has learned about gathering and processing techniques, and will provide you with cedar, cattail, iris, Northwest estuary sweet grass, and many other Northwest materials to create with.
Potential projects include: Cattail Wall Pouch, Cedar Mat, Small Cedar Basket, Cordage Bracelet, Hoop Necklace With Star, Hoop Necklace With Net, and Nature Beads. Melinda will model techniques that include: basic weaving, twining, hoop-making, knotless netting, five point star weave, cordage-making, twined border, slant-behind-twined border, and twig bead-making.
This fun, exploratory experience comes with all materials, a gourmet lunch made by the extraordinary IslandWood chefs, and a new appreciation for the many materials gifts available from our treasured Pacific Northwest landscapes.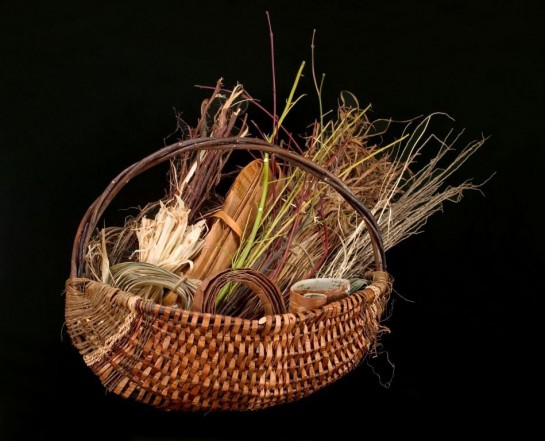 Pictured: Ribbed Gathering Basket filled with natural weaving materials
Note: This class is suitable for beginners and also for those experienced with basketry wishing to explore uses of Pacific Northwest materials. It is important that students have hand-strength and knife safety experience.

Included in this workshop:

The rich culural history of weaving, including ethical harvesting techniques

To prepare the inner bark in time-honored traditional style

Techniques of basic cedar bark weaving

Enjoy a delicious IslandWood lunch (one hour) in community with one another

Beginners welcome!
This workshop is for adults, or youth over 15 years of age who are mature and self-directed. Space is limited. Thank you!