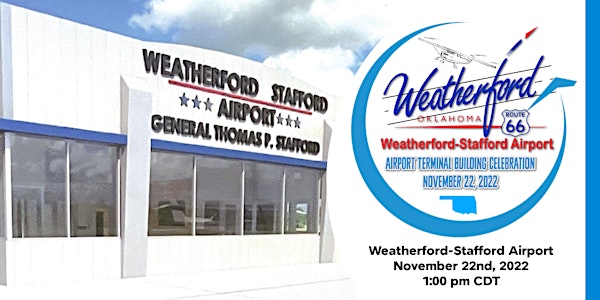 Weatherford Stafford Airport Terminal Celebration
The City of Weatherford and Oklahoma Aeronautics Commission invite you to a special public celebration of the new Stafford Airport Terminal.
When and where
Location
THOMAS P. STAFFORD AIRPORT IN WEATHERFORD, OKLAHOMA 3000 Logan Road Weatherford, OK 73096
About this event
Join the City of Weatherford and the Oklahoma Aeronautics Commission as they host a public celebration and ribbon cutting for the new airport terminal at the Weatherford Stafford Regional Business Airport centered in the heart of Weatherford, Oklahoma. Weatherford Stafford Airport will host an airport terminal dedication on Tuesday, November 22, 2022, beginning at 1:00 p.m. CDT. The event is free to attend but for planning purposes, event organizers ask that each attendee register and present their ticket upon entry.
Celebrate the spirit of aviation with special guests Gen. Thomas Stafford and United States Senator James Inhofe as well as other state dignitaries and community leaders as community stakeholders and guests commemorate the accomplishments of the greater western Oklahoma aviation and aerospace community through the dedication of this vibrant jewel in the crown of the Weatherford Stafford Airport and Stafford Air and Space Museum campus.
The program will be held in the Stafford Air and Space Museum Stealth Gallery. Following the program attendees will be invited to the terminal building for the ribbon cutting and to tour the new facility.
Before, or after the dedication ceremony, you are invited to plan a visit to the museum, named for NASA astronaut and Weatherford native Thomas P. Stafford. Registered guests can present their ticket for free admission to the museum. This Oklahoma historical treasure became a Smithsonian Affiliate in June 2010. The museum features exhibits about aviation, space exploration, and rocketry, and a collection of over 20 historic aircraft. Displays include Stafford's Apollo 10 spacesuit, the Gemini 6A spacecraft, artifacts from the Space Shuttle program, the Hubble Space Telescope, and the Mir Space Station, a Moon rock, a Titan II missile, and a Mark 6 re-entry vehicle.