Description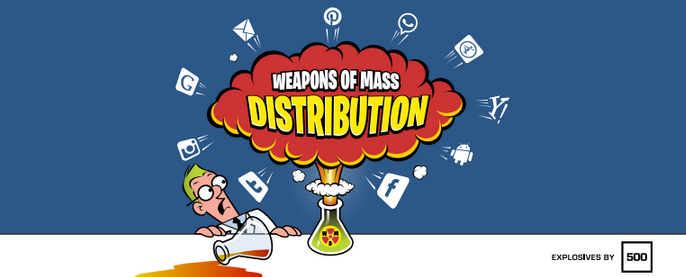 WEAPONS OF MASS DISTRIBUTION CONFERENCE
Friday, May 1, 2015

●

9:00 AM - 7:30 PM

●

San Francisco, CA
Note: This page may not render correctly on mobile.
For more info, visit the Weapons of Mass Distribution conference website.
---
THE 500 DISTRO LAB IS OPENING ITS DOORS...
Wanna Make Your Startup GO BOOM?
Building the next Pinterest or Dropbox isn't just about the code —
without some serious distribution channels & hack-tics, those startups might have well been another drop in the dead pool.
On May 1, 2015, join tech's most savvy distribution experts at Weapons of Mass Distribution, a one-day conference that will teach you strategies & tactics for BLOWING UP your distribution. W
e'll bring together top growth geeks, data nerds and over 500 startups to dissect and explore the trends, techniques and tools that will bring your customer acquisition and retention to a nice bubbly
...BLAST OFF!
---
Josh Elman
Partner
Andrew Johns
Director of Growth & Revenue
Tina Sharkey
CEO
Sean Ellis
Founder & CEO
Asha Sharma
Chief Operating Officer
Brian Balfour
VP of Growth
Michelle Lam
Co-Founder & CEO
Pedro Sorrentino
Community Development
Manager, US West & LATAM
Julie Zhou
Online Marketing Instructor
Matt Epstein
VP of Marketing
Anneke Jong
VP of Marketing
Alex Austin
CEO
Dave McClure
Founding Partner
Peep Laja
Founder
Dennis G.
VP Growth & CEO
Sander Daniels
Co-Founder
Jonathan Hsu
Head of Data Science
Adelyn Zhou
Acquisition Marketing Head
Juan Martitegui
Founder
Diana Smith
Director of Marketing
James Currier
Co-Founder
Tammy Camp
Distro
Hacker-in-Residence
Jim Scheinman
Resident Growth Hacker
Massimo Chieruzzi
CEO
---
Marketing Lingo 101:
Decoding the Periodic Table of Endless Acronyms
E-mail Marketing:
From drip to trigger, how to up the open rate

Mad Analytics:
Implementing, understanding & tracking metrics
Monetizing Mobile:
Onboarding & conversion strategies
Social Marketing:
Tactics for growing a fanbase & measuring your ROI
The B2B Playbook:
Where to find and how to monetize customers
Conversion Optimization:
How to fix your funnel & other UX tips
Customer Retention:
The ins and outs of increasing LTV
Word of Mouth:
Building brand and buzz
+ More
---
If you'd like to partner, volunteer or help us devise our emergency preparedness & evacuation plan, ping Cristina at 500 dot co
At 500 Startups, our priority is giving tech startups the support, education, and network they need to build great companies. We're not in the conference business, so we keep costs as low as possible while making content and audience our guiding force. The result: our events annually draw thousands of tech entrepreneurs and execs, the curriculum is actually useful and actionable, and the networking is unmatched. For more information,
drop us a line
... we love making new friends.
JOIN THE CHAOS ON THE INTERWEBS
Organizer of Weapons of Mass Distribution
500 Startups is a venture capital firm on a mission to discover and back the world's most talented entrepreneurs, help them create successful companies at scale, and build thriving global ecosystems. We are one of the most active seed stage venture capital firms in the world. Since our inception in Silicon Valley, 500 Startups has invested in over 2,200 companies via our 4 global funds and 15 thematic funds dedicated to either specific geographic markets or verticals. Our 100+ team members are located in multiple locations worldwide, with 500 Startups' global portfolio of investments spanning over 60 countries. Notable portfolio companies include: Twilio (NYSE: TWLO), SendGrid (NASDAQ: SEND), Credit Karma, Grab, Carousell, Udemy, Kudo (acquired by Grab), Talkdesk, Makerbot (acquired by SSYS), Wildfire (acquired by GOOG), and Viki (acquired by Rakuten).