Breaking Through The Crisis | Your Health & Wealth Now and in a Post Covid World
About this Event
Join the Gensler Group and special guest speakers Chris Howard, President and CEO at Sharp HealthCare and Apollo Lupescu, Vice President at Dimensional Fund Advisors as they guide you through the current state of Covid-19 and the economic situation of our country.
Chris Howard will cover the current state of COVID-19, the latest facts & figures, vaccine news, variants and latest developments.
Apollo Lupescu will address the current economic events including the disconnect between Wall Street & Main Street, stimulus and monetary policy programs, Interest rates and more.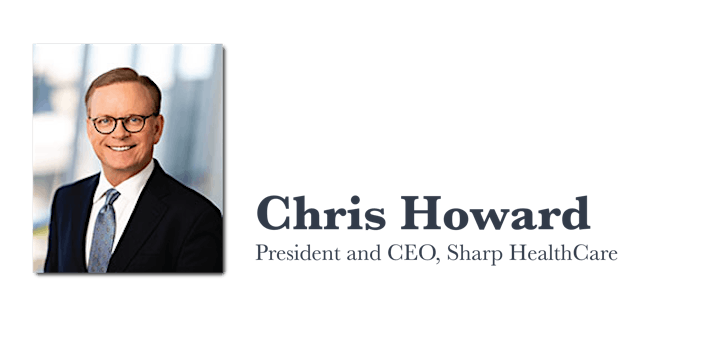 Meet our speaker: Christopher D. Howard, President and Chief Executive Officer at Sharp HealthCare
"The Sharp Experience is a sacred trust and something each of us who represent this amazing organization provide to those we serve each and every day. The Sharp Experience means we consistently demonstrate a special form of transformational engagement in every interaction we have with all who are touched by Sharp HealthCare."
Chris Howard is president and chief executive officer of Sharp HealthCare. Howard oversees a workforce of more than 18,000 employees, 2,700 affiliated physicians and 1,800 volunteers. Sharp provides care and services in a fully integrated not-for-profit system that includes four acute-care hospitals, three specialty hospitals, three affiliated medical groups, six urgent care centers, three skilled nursing facilities, home health, hospice, state-of-the-art outpatient facilities and a health plan.
Howard, whose career spans more than 30 years, has worked extensively with integrated care delivery systems, hospitals, medical groups and health plans. Prior to joining Sharp, Howard served as chief operations officer for SSM Health where he ensured exceptional clinical quality, safety and service for all at SSM's hospital, medical group and major business operations in Missouri, Illinois, Wisconsin and Oklahoma. He also oversaw SSM's Performance Excellence Organization and system wide responsibilities in facilities, real estate, pharmacy, laboratory and environmental and food services.
Howard holds a Master of Science Health Care Administration degree from the University of Oklahoma College of Public Health, as well as master's and bachelor's degrees from the University of Oklahoma.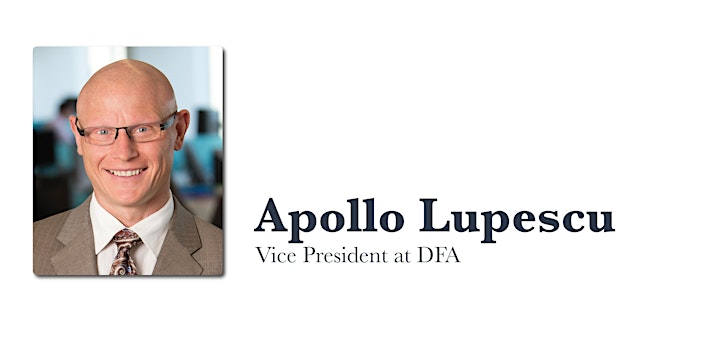 Meet our speaker: Apollo Lupescu, PhD, Vice President at 
Dimensional Fund Advisors
Apollo Lupescu is a Vice President at Dimensional Fund Advisors, where he started in 2004 after finishing his PhD in economics and finance at the University of California, Santa Barbara.
During his tenure at the firm, Apollo has gained experience in a wide variety of practical subject matters. He was part of the Dimensional Investment Strategies group, worked directly with financial advisors in the Northeast area assisting in the development of their business, managed the internal Client Services team that provides broad analytical support, and then oversaw the firm's national advisor retirement business.
He is currently Dimensional's "secretary of explaining stuff." In this role, he frequently presents around the country and the world at financial advisor professional conferences and individual investor events.
Prior to joining Dimensional, Apollo had his own consulting firm, which provided services to the US Department of State and the White House on a variety of projects. His interests in finance and investments led him to teaching engagements at the University of California, Santa Barbara. In addition to his PhD from UCSB, Apollo has a BA from Michigan State University, where he competed in and coached water polo.
Securities offered through LPL Financial, Member FINRA/SIPC. Investment advice offered through The Gensler Group, LLC, a registered investment advisor and separate entity from LPL Financial, DFA, and Sharp HealthCare.
Dimensional Fund Advisors & Sharp HealthCare are not affiliated with, LPL Financial or The Gensler Group, LLC
This event is free and open to the public.