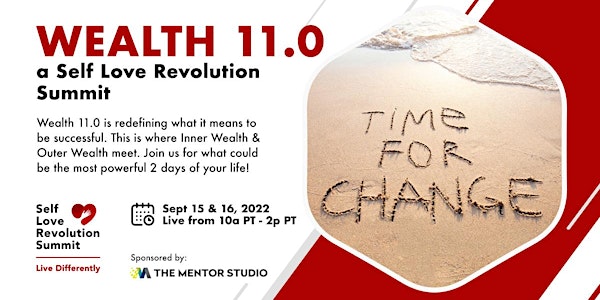 Wealth 11.0 - A Self Love Revolution Summit
Welcome to Wealth 11.0 - where Inner Wealth and Outer Wealth Meet. Come prepared to enjoy your whole life, not just pieces of it. ❤️
Refund Policy
Contact the organizer to request a refund.
Eventbrite's fee is nonrefundable.
About this event
What if everything you learned about success is wrong?
If what you learned worked, you probably wouldn't be looking at this page right now. But since you are here, chances are, something in your business or personal life is seriously out of place.
Welcome to Wealth 11.0.
Wealth 11.0 is a redefining of success. We live in a world where we sacrifice our health our relationships to make money, and then we spend all our money trying to get healthy and rebuild our lives again.
We no longer have to live like this.
Wealth 11.0 is a pathway to more health, more wealth, and better relationships, without sacrificing either.
If you're looking to live and work differently, if you're tired of being exhausted and burnt out, and if you've tried every personal development class and it's still not working, I want to invite you to join us.
Wealth 11.0 is different.
You will:
Learn how to live and work differently (no burnout, no overwhelm)
Master how to grow your business and your life
Cultivate long lasting relationships
Create a bank account that brings you joy
Regain your freedom to love life and love work, everyday
If you want:
More Freedom with less struggle,
Better Health with less pain,
More Money with less hustle and hassle,
Then this event is for you!
This event will be live on zoom. (Link sent upon registration.)
Unlike most summits, you will be able to join and ask questions!
YOUR HOST:
Jonathan Troen had a 20 year career as a producer in the music and entertainment industry collaborating with celebrities and major tv networks. From a distance, it appeared he was living the life of his dreams, working with everyone from Madonna, Cher, Pink and *NSYNC to Metallica, The Ramones The Who, and Green Day. Yet he still wasn't happy and after taking a look around him, he realized he wasn't alone. He was determined to figure out why. Slowly, he uncovered the secret to success and true happiness and has since shared this with entrepreneurs and his life coaching students via The Self Love Revolution. His story has been shared on ABC, NBC, CBS, as well as radio stations and podcasts around the world.
SPEAKERS:
❤️ Michael Silvers built coaching programs and masterminds for the largest Self Development Company in the World, VP of Sales for Peak Potentials 1 year, Director of coaching for T. Harv Eker and Peak potentials 8 years. EVP and head of global Training for Powerteam 3 years.
❤️ Mary Glorfield, former Executive Vice President, Robbins Research International, retired after 18 loyal years, known to be of THE most connected women in the public speaking industry. Executive Vice President with Tony Robbins for over 18 years. 4 million Miles Traveled with Tony, 3 million participants in 82 countries.
❤️ Pat Quinn – Finding your voice (and making it profitable). Pat has spoken on some of the biggest stages in the world. He's a former magician with an advanced degree in brain research. He understand how how adults (including you) learn new information. If you're ready to open your brain for him, you may never be the same again.
❤️ Marisa Murgatroyd - Mastering The Flow of Life (and creating a 7 figure business). She was told she had no marketable skills, then created a 7-figure business (and has taught over 10,000 people how to create theirs). She's created a tribe of world-changing superheroes, and you can be one of them.
❤️ Johnathan Price – Mastering What You Love (and turning it into wealth). Johnathan has created one of the top youtube channels and a massive business, doing what he loves. And it all started in his parents attic. I don't know about you, but I would like to know how he did it!
❤️ Angee Hernandez - Born Poor, Living Rich. It's not just the 80 million dollars in sales. It's the freedom she's created for herself. And she's more fun that just about anyone you've ever met!
❤️ Maricela and Chris Soberanes - A Marriage and Business Success Story. Being married can be difficult. And most of us know the trials and tribulations of entrepreneurship. Maricela and Chris put them both together, broke all the rules, and found success. From being and immigrant to becoming a US Naval Officer to creating wealth as a Real Estate Syndicator, this is a journey you want to hear.
❤️ Dawna Campbell - The Mind Whisperer. after learning that managing $500m hedge funds wasn't the path to happiness she was promised, she switched gears. She has earned the title of "The Mind Whisperer" for creating instantaneous results for others in the areas of health, wealth, and relationships. She has shared the stage with notables including Lisa Nichols, Dr. Joe Vitale, Sharon Lechter and Kevin Harrington.
And more are still joining!