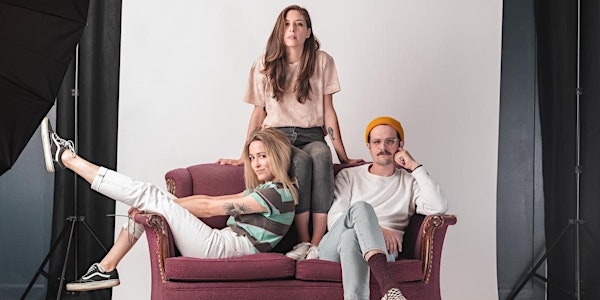 Weakened Friends w/ Cinema Stare, Saint James
12.10.22
When and where
Location
The State House 310 State Street New Haven, CT 06510
Refund Policy
Contact the organizer to request a refund.
Eventbrite's fee is nonrefundable.
About this event
Tiny Box Booking presents:
Portland, Maine indie rock trio Weakened Friends dive into the honest truth of being a working musician on their new LP, Quitter, reflecting on lost friendships and self-worth swallowed up by burnout. Songwriter, guitarist, and vocalist Sonia Sturino is supported by Annie Hoffman (bass/vocals) and Adam Hand (drums), filling out a mature and emotive sound.
Central to the record thematically is the empty threat of quitting music and "getting a real job". Sturino wrestles with her relationship with music on the title track, shouting "I love it, but it never really feels okay" over scorching guitars. Despite the implications of the title, quitting is not an option for the band. Even as friends settle into adulthood, Weakened Friends find themselves trapped in a fortress of their own creation, inseparably attached to the eternal youthfulness of life in music. In this liminal zone, life passes by and friendships are weakened, and Quitter takes plenty of time to mourn these losses.
Chunky, distorted riffs support snarky, cutting vocals on "Everything is Better", a tongue-in-cheek acceptance of one such broken friendship. Agile shifts between heavy fuzz guitar and softer, more introspective moments follow the vocals through tumult and triumph as Sturino envisions what's being said about her from the other side of the conflict. Leaning into a perception of her as cold and uncaring, Sturino revels in the role of the villain, taking jabs like "everything is better when you're not around".
Though the record acknowledges a perpetual state of arrested development that comes with being a musician, the band is anything but stagnant musically. Opening themselves up to ideas outside the constraints of their slacker rock sound, Weakened Friends puts the full force of their creative ambition into "Quitter". Inspired by watching peers go above and beyond what is expected of them, the band sought to explore each song's fullest potential, with their most extensive pre-production and arrangement work to date. Incorporating banjo, pedal steel, horns, extensive synth arrangement and a number of non-instrumental sounds such as ovens and camera flashes, Weakened Friends expand on their universe of sounds on their new LP.
Sturino begins songs as skeletons, allowing the rhythm section to "pull every song apart and investigate every path they could go down", as Hoffman put it. Focusing on the momentum behind every lyric, the trio squeezes each musical moment for maximum emotional impact. The album's opener "Bargain Bin' exemplifies this process, beginning just with Sturino providing a contemplative melody underlaid by wandering guitar picking. A sharp crack of the snare drops the rest of the band in, cueing in a lush swell of bass and guitar.
https://weakenedfriends.bandcamp.com/
Cinema Stare
New Haven-based emo pop outfit.
https://cinemastare.bandcamp.com/
Saint James
New Haven y'alternative.
https://sssaintjamesss.bandcamp.com/
The State House | 310 State Street | New Haven, CT
7 PM DOORS | $12 ADV / $15 DOS | All Ages
Accessibility: Staircase to front door. Entry ramp on side of building. All bathrooms ground floor & gender-neutral.