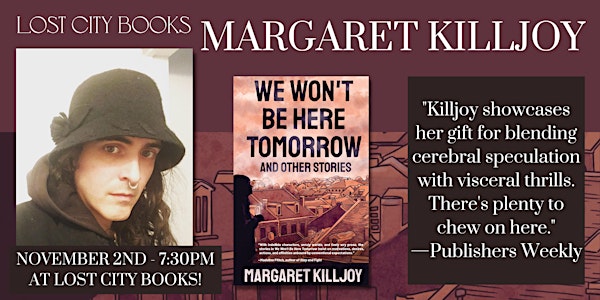 We Won't Be Here Tomorrow by Margaret Killjoy
Margaret Killjoy discusses her collection of speculative fiction stories We Won't Be Here Tomorrow!
When and where
Location
2467 18th St NW 2467 18th Street Northwest Washington, DC 20009
Refund Policy
Contact the organizer to request a refund.
About this event
Margaret Killjoy discusses her collection of speculative fiction stories We Won't Be Here Tomorrow!
About We Won't Be Here Tomorrow:
"For this impressive collection, Killjoy (the Danielle Cain series) brings together 21 speculative shorts tinged with just the right amount of horror to keep readers gloriously uncomfortable... Throughout, Killjoy showcases her gift for blending cerebral speculation with visceral thrills. There's plenty to chew on here."
—Publishers Weekly
Spaceships, man-eating mermaids, swords, demons, ghouls, thieves, hitchhikers, and life in the margins.
Margaret Killjoy's stories have appeared for years in science fiction and fantasy magazines both major and indie. Here, we have collected the best previously published work along with brand new material. Ranging in theme and tone, these imaginative tales bring the reader on a wild and moving ride. They'll encounter a hacker who programs drones to troll CEOs into quitting; a group of LARPers who decide to live as orcs in the burned forests of Oregon; queer, teen love in a death cult; the terraforming of a climate-changed Earth; polyamorous love on an anarchist tea farm during the apocalypse; and much more. Killjoy writes fearless, mind-expanding fiction.
***
Margaret Killjoy is a transfeminine author born and raised in Maryland who was spent her adult life traveling with no fixed home. A 2015 graduate of Clarion West, Margaret's short fiction has been published by Tor.com, Strange Horizons, Vice's Terraform, and Fireside Fiction, amongst others. She is the author of A Country of Ghosts, The Lamb Will Slaughter the Lion, and The Barrow Will Send What it May. She is also the host of the podcasts Live Like the World is Dying and Cool People Who Did Cool Stuff on iHeartRadio.
***
Accessibility note: This event is up two flights of stairs and Lost City Books does not have an elevator. This event will be simultaneously live streamed on our YouTube page!