Description
We invite to join us for the WE Thrive Masterclass & Mastermind on Thursday, March 30th from 5:30-8:30PM in NYC!
TOPIC DISCUSSION:
"IGNITE YOUR BUSINESS WITH PASSION"
How To Start Attracting & Closing Your Ideal Clients!
Become a part of our vibrant community of passionate women entrepreneurs and join us last Thursday of the month in midtown Manhattan with our guest speaker, the fabulous NAKETA THIGPEN.

Remember Software Icon Bill Gates? Did you know that his story didn't just begin in a garage, it began when he ignited his passion by having the right attitude, one that was laced with the confidence that his ideas were valuable even before they were fully developed into a tangible product or service. Participants of the Ignite Your Business with Passion roundtable, will learn the core ingredients necessary to rip through hesitation, doubt, procrastination and start attracting and CLOSING your ideal clients.
5:30-6:00pm - Registration & Networking
6:00-6:30pm - Welcome & Introductions
6:30-7:30pm - Special Guest Speaker
7:30-8:00pm - Mastermind Session
8:00-8:30pm - Wrap Up & Networking
SPACE IS LIMITED... RESERVE YOUR TICKETS TODAY!
INVESTMENT: $30.00 (Member) I $35.00 (Non-Member)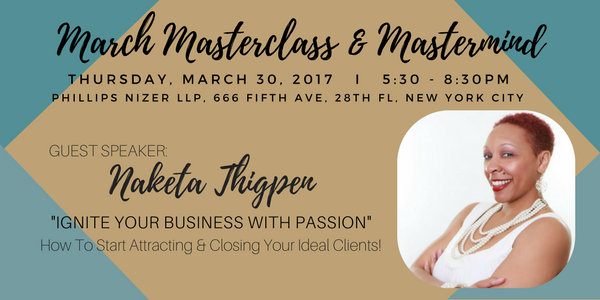 ARE YOU SEEKING RESOURCES, CONNECTIONS AND A VIBRANT COMMUNITY OF INSPIRED, PASSIONATE, KICKASS #LADYBOSSES TO SHARE THE JOURNEY?
We've designed our signature monthly Masterclass & Mastermind workshops to help women just like you navigate through their business and professional challenges using the collective intelligence of others. We are confident that the powerful conversations created between like-minded #LadyBosses who are committed to growing, evolving and manifesting greatness for themselves and others, will catapult us all to new heights of achievement!
No matter where you're at in your journey, The Business of WE is where dreams are strengthened and WE get inspired. Where compelling masterminding and brainstorms happen, meaningful connections are made and collaborative partnerships are born. Where uncertainty and fear perish and WE thrive!
REGISTER TODAY!
*Help us expand our network (and yours) by inviting other like-minded women to join us.
THE MORE OF US, THE MORE WE CAN ACCOMPLISH!