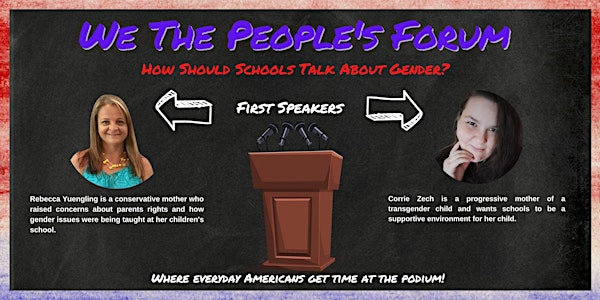 We The People's Forum: How Should Schools Talk About Gender?
Can we have a thoughtful and civil conversation about gender issues?
Refund Policy
Contact the organizer to request a refund.
Eventbrite's fee is nonrefundable.
About this event
At a time when many parents and schools are wrestling with gender issues, can we have a thoughtful and civil conversation about this important but difficult topic?
And might the experiences of everyday parents – whether conservative, progressive, or somewhere in between – help us to better understand each other and to find some common ground?
We'll explore these questions and possible areas of common ground with a fascinating lineup of first speakers and with participants.
Our first speakers include a progressive mom of a transgender teen who wants schools to be a supportive environment for her child, and a conservative mom who raised concerns about parents rights and how gender issues were being discussed at her kids' school.
Then, it's the people's turn to speak.
We The People's Forums are an opportunity for the people who make this country function everyday--the important people who are not politicians, or talking heads on screens, or opinion writers in the big newspapers–- to make their voices heard.
Here's how it works:
First part: our first speakers talk about their experiences and perspectives, their concerns about their own positions, and what they see in common.
Second part: it's Q and E time: anyone may ask a question, and anyone with direct experience on the issue is encouraged to talk about their experience.
This event is open to the general public.
Our first speakers include:
Rebecca Yuengling: "I am a Christian conservative mom of two teenage children from Tampa, Florida, and a religious cult survivor."
Corrie Zech: "I am the parent of a transgender teen from Middletown, Ohio. I serve on the leadership team of the Braver Angels We the People's Project and I work as a health unit coordinator at a hospital.
About Braver Angels and We the People's Forum
Braver Angels is a citizen's organization that brings Americans together to bridge the partisan divide and strengthen our democratic republic. We the People's Forum is a Braver Angels event where everyday Americans get time at the podium. We hear from people who are often spoken of, but rarely spoken with, on the most important issues of the day. Learn more at www.braverangels.org/wpp
** This event is open to the media upon approval. Media contact: Ciaran O'Connor, ciaran@braverangels.org