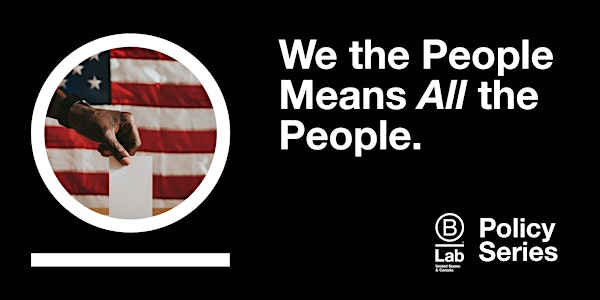 We the People Means ALL the People: Voting Rights Webinar for Businesses
Join the B Corp community for a webinar about how we can protect the right to vote for all people in the United States.
About this event
The B Corp movement prides itself on making the economic system work for all people and the planet. An incredible amount of power, insight, wisdom, and advocacy already exists within the B Corp community. All businesses have a unique ability to use their practices, platform, and status to affect change in our political system. They have a responsibility to use those resources to help bring about a more equitable and just world.
One way B Corps can do that is by working to expand access to the ballot, using internal company policy, external communications, and advocacy. In the last few years, voting access has diminished across the United States. According to the ACLU "over the last decade, instead of protecting the Voting Rights Act (VRA) and expanding access to the ballot box, the Supreme Court and courts across the country have dismantled and gutted crucial parts of the VRA." These changes have made it more difficult for people to exercise their right to vote, particularly for people in marginalized communities.
The goal of B Lab U.S. & Canada's "We The People Means All The People" campaign is to help B Corps affect social and political change on the pressing matter of voter access. On Monday, October 3 at 1 p.m. ET, B Lab U.S. & Canada, alongside our partners the ACLU and the Southern Poverty Law Center, is hosting a webinar on how B Corps can engage in voting rights advocacy. Join us for this important discussion on how B Corps can engage in voting rights policy.
We the People Means ALL People.
There are many ways companies can support voter access. Many B Corps are already taking the lead by engaging with their customers, employees and communities on this important issue. To help highlight this important work, B Lab U.S. & Canada is partnering with the ACLU, the Southern Poverty Law Center, and others to educate the B Corp community on why voting rights matter, how to help Get Out the Vote within your company and community, and how to advocate on the federal and state level. For more resources, visit https://usca.bcorporation.net/voting-rights-resources/.
Who Are The Speakers?
LaToya Richie: President, NExT Philadelphia - National Urban League of Philadelphia Young Professionals
LaShawn Warren: Chief Policy Officer, Southern Poverty Law Center (SPLC)
Danielle Silber: Director of Strategic Partnerships at the American Civil Liberties Union
Sabrina Stratton: Sr. Vice President, Northeast Regional Director at Amalgamated Bank
Maroni Minter: US Activism Manager at Ben & Jerry's
Liz McGeachy: Communications Director, Chicory Wealth
Who Should Attend?
This event is for employees of Certified B Corporations or others interested in learning more about how businesses can leverage their power to advocate for voting rights. This event is geared to help individuals understand what they can do personally to support.