Description
Join us for a livestream of our We The Change, Women Together series.
Together in Brooklyn, we will gather for inspiring talks, mindfulness practices and enlivening conversations to deepen our connections to ourselves and each other.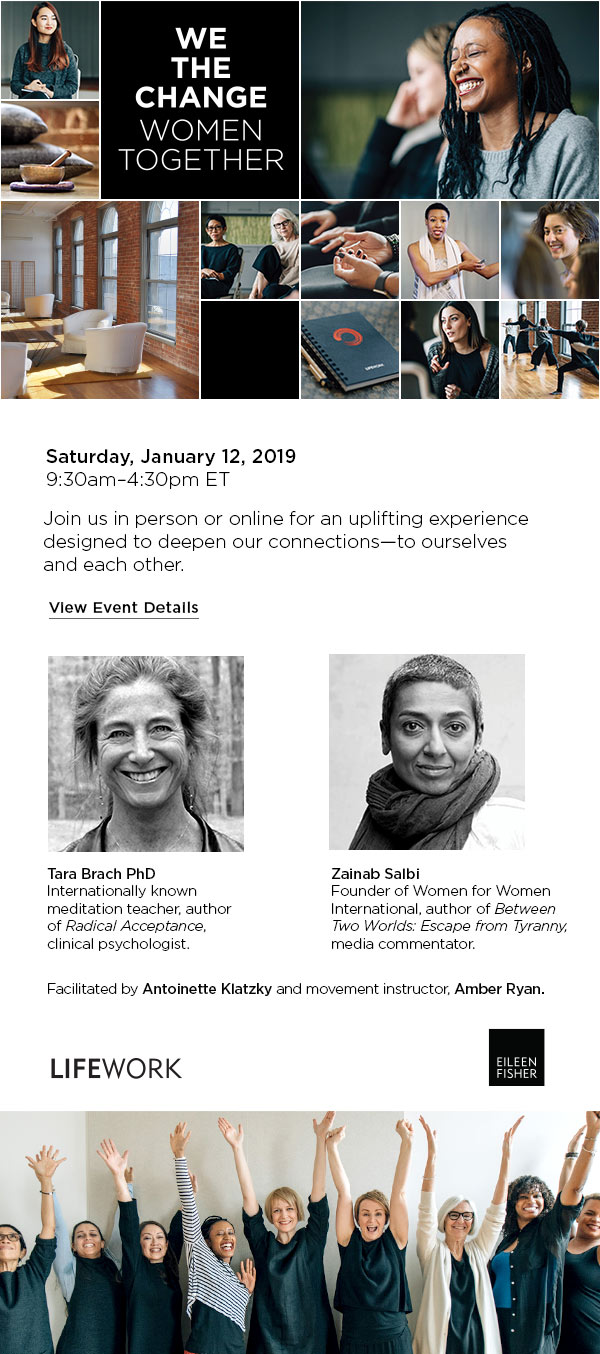 We are bringing women together from coast to coast and around the world for an event people are describing as "empowering, uplifting, inspiring."
Women Together allows us to experience firsthand — online and in person — the powerful collective energy that emerges when we forge deep personal connections with one another.
We will be joined by internationally known meditation teacher and best-selling author of Radical Acceptance, Tara Brach, along with activist, global change-maker, and founder of Women for Women International, Zainab Salbi, among other inspiring women.
"Clearly recognizing what is happening inside us, and regarding what we see with an open, kind, and loving heart, is what I call Radical Acceptance." —Tara Brach
Inspiring teacher and best-selling author of Radical Acceptance, Tara explores how we can connect with our deepest wisdom and compassion, even in the face of conflict and challenge. Through meditation, guided exercises, and discussions, participants learn how to recognize and release the fears, judgments, and limiting beliefs that prevent us from living and loving fully.
Tara Brach, PhD, is a clinical psychologist, internationally known meditation teacher, and author of the best-selling books Radical Acceptance and True Refuge. She is founder of and senior teacher at the Insight Meditation Community of Washington DC, and teaches meditation workshops and retreats throughout the United States and Europe.
As long as we are conflicted within, we will continue to live in conflict without." —Zainab Salbi.
After years of working as a successful CEO and change-maker, Salbi realized that if she wanted to confront and heal the shadows of the world, she needed to face her own shadows first — and this could only be done by looking within. Through personal anecdotes, real-life stories, parables, and insightful guidance, Salbi will take us through a process of self-discovery.
Zainab Salbi is a humanitarian, author, entrepreneur, and media commentator who has dedicated herself to women's rights and freedom. She is the founder and former CEO of Women for Women International — a grassroots organization dedicated to serving women survivors of war. She is the author of the best seller Between Two Worlds and, her newest, Freedom Is an Inside Job.
We know you'll be inspired hearing them share powerful stories and insights, while connecting through practices to help us create the change we want to see in the world . . . starting with ourselves.
For online participants, you will join in for the full day, engaging with other women across the country in real time. Audience members are invited to connect with one another in breakout groups and now, using emerging technology, the online audience can join in every activity and be actively engaged in the full day of events. Lunch will also be served.
Sign up for the livestream here via Eventbrite or directly at Eileen Fisher LifeWork.