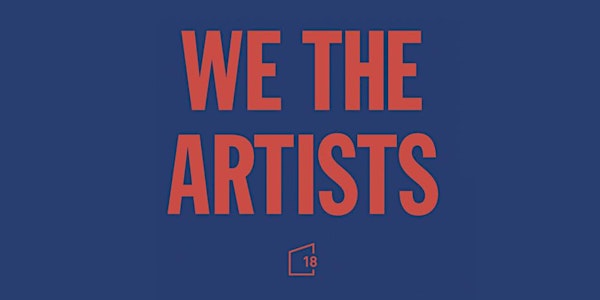 WE THE ARTISTS | 18th Street's 30th Anniversary Celebration! – an immersive...
Event Information
Location
18th Street Arts Center
1639 18th Street
Santa Monica, CA 90404
Description
WE THE ARTISTS: 18th Street's 30th Anniversary Celebration!
November 10, 2018 | 7-10 PM
Santa Monica, CA – 18th Street Arts Center celebrates 30 years as Southern California's leading artist residency program with a live performance art event and free public birthday party on November 10, 2018 from 7-10pm. The event is co-hosted by 18th Street's founding 'compadres' La Pocha Nostra and Highways Performance Space. The evening spectacular features new live art works by 18th Street artists Kenyatta AC Hinkle, Asher Hartman, Marcus Kuiland-Nazario, Amitis Motevalli, site-specific installations by Kate Johnson, Po-Yen Wang, and performances curated by Highways Performance Space featuring Egrets on Ergot, Sebeyu, and Bethany Ward-Lawe! Enjoy live performances, video installations, exhibitions, music, artist's studios, LA's gourmet food trucks, and craft beer.
PROGRAM OF ACTIVITIES:
Open Studios & Exhibitions: 7 - 8 PM: The public is invited to explore artists' studios and site-specific installations by 18th Street artists.
PARTICIPATING ARTISTS
Open Studios
Rick Buckley (Germany)*
Maj Hasager (Denmark)*
Alexandra Hopf (Germany)*
Karlsson Rixon (Sweden)*
Luciana Abait ⥉
Arzu Arda Kosar ⥉
Clayton Campbell ⥉
Yvette Gellis⥉
Aska & Ichiro Irie⥉
Dan Kwong ⥉
Los Angeles Poverty Department⥉
EZTV Archives with Michael J. Masucci and Kate Johnson⥉
David McDonald⥉
Debra Disman⥉
Leslie Labowitz-Starus⥉
Jeff Beall⥉
Lita Albuquerque⥉
Continuum Movement Studio presents: Torkom Ji, sound healer ⥉
Exhibitions
Neha Choksi ⧫ | ELEMENTARY
Artist Lab Residency & Exhibition | Main Gallery
September 29 - December 15, 2018
Poyen Wang * | Saudade (2016)
Visiting Artist Residency & Exhibition| Atrium Gallery (Blue Building)
A. Laura Brody | Kali/Medusa
Artist Exhibition | Highways Performance Art Space and Gallery
November 2 - December 16, 2018
Arzu Arda Kosar | Map of California
Site-specific Installation | Green Building courtyard garden
November 10, 2018 only
7:40 - 8PM | Bethany Ward-Lawe, Who Will Survive In America in Highways Performance Space
Curated by Highways Performance Space
⧫ Artist Lab Resident | * Visiting Artist Resident | ⥉ Local Studio Resident
8-9 PM: A Live Performance Take Over Begins!
Join our host, Guillermo Gomez-Pena and La Pocha Nostra for an interdisciplinary performance art spectacular!
Legendary performance ensemble La Pocha Nostra takes over 18th Street's outdoor stage and guides us through a journey with:
Amitis Motevalli, performing Know What You Dismantle: Critical Integrated Pedagogy #25, part of a series of pedagogical projects looking at revolutionary transformation through integrated learning. The Declaration of Independence is projected, read and corrected/adjusted to be inclusive and reflective of peoples systematically excluded from agency toward governance.
Kenyatta A.C. Hinkle, giving Kentrifican consultations with her nomadic divination instrument, The Manatakean, a new work derived from her long term Kentifrica Project (presented in the Artist Lab at 18th Street in 2017).
Gawdafful National Theater, performing Stigmata in the Rose Garden, a new work written and directed by Asher Hartman, with Brian Getnick, Arne Gjelten, and Tim Reid. This performance proposes to use with the idea of submission, both bodily and psychological, for the greater good through artists' privileged clown bodies.
Marcus Kuiland-Nazario in collaboration with Paul C. Donald on a new work, 30 Weight Duet, that incorporates a shoulder dolly, feats of brute strength, and a dash of Fred & Ginger.
Kate Johnson, award-winning filmmaker and video artist, transforms spaces within 18th Street Art Center's campus with site-specific durational projections and sound installations.
9 - 10PM | Highways Performance Space presents:
Sebeyu | 9 - 9:25 PM in Highways Performance Space
Egrets on Ergot | 9:20 - 10PM on main stage
LA's best punk band, close out the night with their versatile, moody, gothic, deathrock, pseudo-no wave sound. Curated by Highways Performance Space, Artistic Director Patrick Kennelly!
Food Vendors | LA food trucks are a fun way to sample LA's food scene as gourmet chefs get creative with culinary cuisine ranging from ethnic delights to old school staples.
LA Donut
Green Truck
Border Grill
Complimentary Beer | Sample exceptional signature beer from our sponsors:
Fort Point Beer
Tsingtao Beer
Date and time
Location
18th Street Arts Center
1639 18th Street
Santa Monica, CA 90404