WE Serve

Thursday, October 19, 2017 from 6:30 PM to 9:00 PM (CDT)
Event Details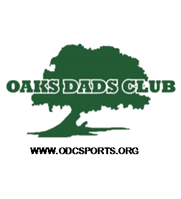 Organization Summary:
OAKS DADS' CLUB – www.odcsports.com
The Oaks Dads' Club has provided youth sports in the Oak Forest area since 1954. We celebrated our 60th Anniversary in April 2014. In the last 5 years alone we have had over sixteen hundred boys and girls between the ages of 4 and 16 years old participate in Baseball, Softball, Football and Soccer. In March of 2015, the Oaks Dads' Club acquired the use of the Candlelight Fields at 6500 Rena Street. The addition of these fields will ensure the continued growth of our youth sports programs for years to come.
The Oaks Dads' Club is more than just youth sports it's about family and dedication to the community. In fact, many of the parents and grandparents of current players at the Oaks Dads' Club were players here themselves! Our motto, "As the twig is bent, so grows the tree," is a reflection of our commitment to the growth and development of our youth.
Possible projects:
Painting outside of the restrooms and concession building.
Please dress accordingly.
Dinner will be served at ODC at 7:00PM.

Thursday October 19, 2017 – Internal schedule:
6:30 pm Attendees load bus at GRB (Level 1, Lobby D near registration)


7:00 pm Volunteers arrive at ODC (Picinc tables under pavilion will be set with tools and supplies)


7:00 pm Brief welcome (ODC President Board of Directors) and thank you 


7:00 pm - 8:30 pm Projects assigned and worked on 



8:30 pm Load bus and return to GRB at 9:00 pm


Check in at Registration for additional instructions, to receive "WE Serve" ribbon, and to sign a volunteer waiver
When & Where

Oaks Dads Club - Candlelight Fields
6500 Rena Street
Houston, TX 77092


Thursday, October 19, 2017 from 6:30 PM to 9:00 PM (CDT)
Add to my calendar