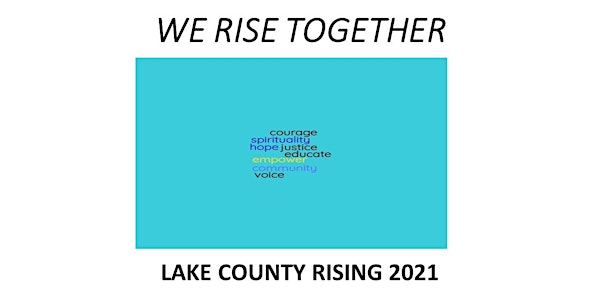 We Rise Together - Lake County Rising 2021
WE RISE TOGETHER - An evening uniting Lake County as a community, bringing awareness to violence against women and providing resources.
About this event
Lake County Rising 2021 is sponsored by the Lake County State's Attorney's Office with the following supporting sponsors: Nicasa Behavioral Health Services, A Safe Place, Zacharias Sexual Abuse Center, YWCA Lake County, College of Lake County, and community activist Judy Armstrong.
Courage, Justice, Finding Your Voice, Empower, Spirituality, Justice, Seeing, Believe, Support, Hope: members of the Lake County community will share how these themes, woven together, depict how WE RISE TOGETHER on behalf of women who have experienced abuse. Featured speaker Cheri Neal, Zion Township Supervisor gives a personal account of Emotional and Verbal Abuse, Its Impact, and How to Make We Rise Together a Reality.
This event is free. Upon registration, you will receive an email with a Zoom link.