Actions and Detail Panel
We Rise Empowerment Brunch
Sat, December 10, 2016, 11:00 AM – 2:00 PM EST
Description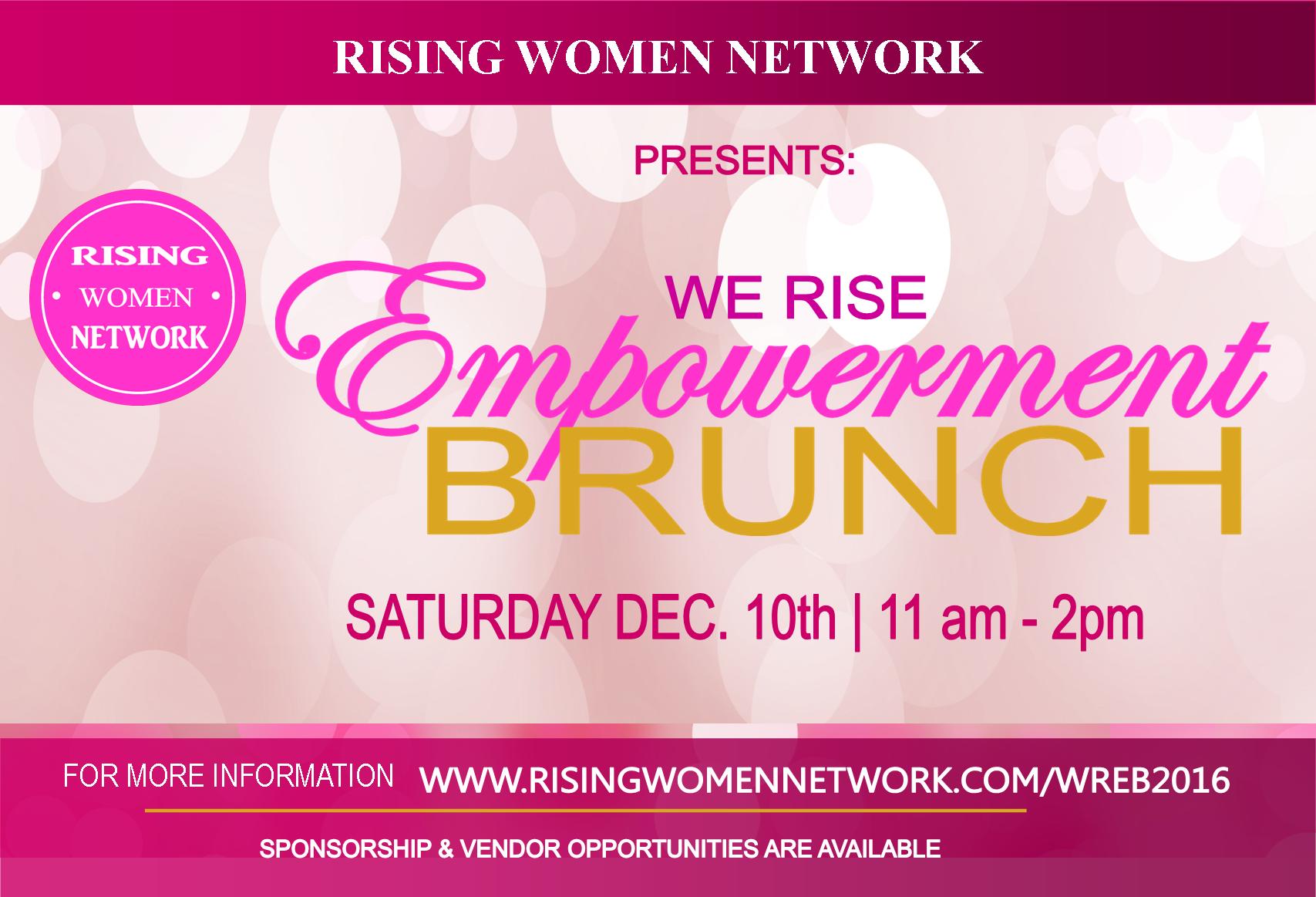 We Rise Empowerment Brunch
"Together We Rise"
2016 Empowerment Brunch Overview
This event is where you realize your dreams are within reach. The We Rise Empowerment Brunch! will take place on Saturday, December 10th, 2016. We will bring together women and men of all ages, who have a passion for business, entrepreneurship and community.
Experience powerful speakers, experts and panel discussions, while igniting new relationships with other attendees & hand-selected exhibitors/vendors. You'll also have time to shop, eat, drink and schmooze, while listening to live DJ sets.
Get ready for a truly amazing experience! The RWN mission is all about increasing your network and your net worth. You'll learn and see first-hand how people are thriving and growing in their life and businesses. And we've created a much-needed platform for them to share their secrets to success with you!
TOPICS INCLUDE:
Strategic Marketing & Branding Tactics

Secrets to Scaling Your Growth & Leadership Skills

Success & Sisterhood

The Power of Quiet

Networking to the Top

Financial, Legal & Business Advice

Personal Branding: Beauty, Fashion & Style

Fighting Fear

The Success Blueprint
This event is for established and aspiring women in business, executives, entrepreneurs, creatives & anyone seeking growth and access to resources and business opportunities in our network.
EVENT SCHEDULE:
SATURDAY, DECEMBER 10th, 2016
11am - 2pm
EVENT LOCATION:
Sons Of Italy
765 SW Dalton Circle
Port Saint Llucie, FL 34953
TICKET INFO:
www.RisingWomenNetwork.com $30 Pre-Sale | $40 @ Door
SPONSOR & MEDIA OPPORTUNITIES:
info@risingwomennetwork.com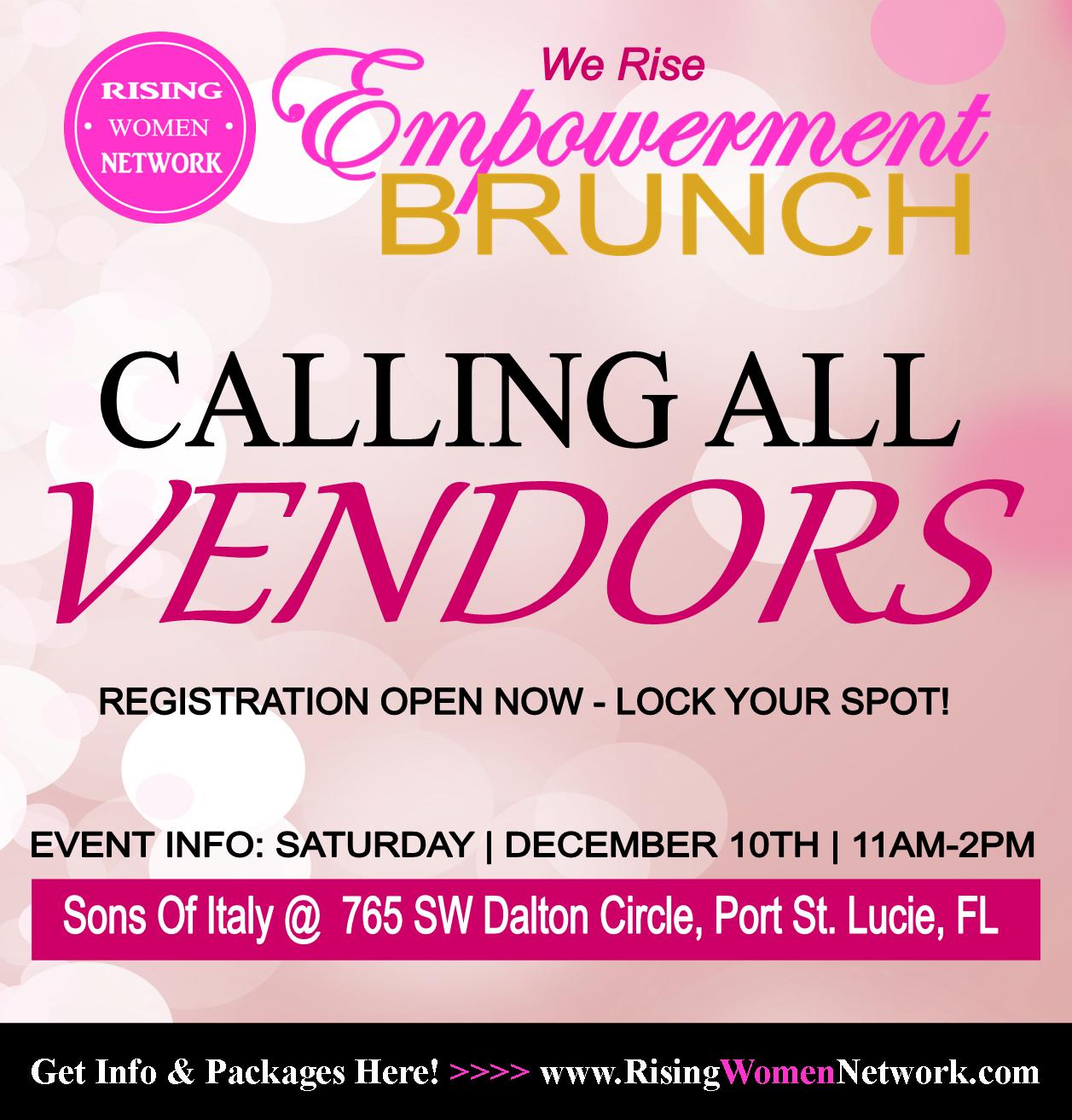 The 2016 Empowerment Brunch is a three-hour brunch in Port Saint Lucie, FL bringing women together who desire to transform their lives, the community, and the world!
We firmly believe that everyone wants to make a dent in the world either personally or professionally. We all want to do big things! Many conferences are big on inspiration, but fall short on providing the tools to take action. The Together We Rise Empowerment Brunch will bring together a diverse collection of world-class presenters who have accomplished big things and will share their ideas and methods. In addition to the speakers being accessible during the event, the conference will offer multiple break-out sessions for participants to collaborate and assist one another in putting together steps for taking action.
Brunch outline: Saturday Dec 10, 2016:
11:00am-11:30am-Welcome Session and Speakers
11:30am-12:30pm- Brunch
12:30pm-1:30pm-Speakers
1:30-2:00pm-Closing Ceremony and video
"The journey of a thousand miles begins with one step." -- Lao Tzu Doing big things starts with taking small steps.