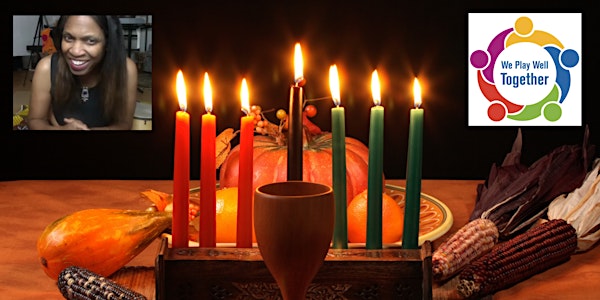 We Play Well Together for Kwanza with Robbi Kumalo
Music Distribution Company WE PLAY WELL TOGETHER presents an online participatory celebration with Musical Artist Robbi Kumalo
About this event
Learn about the holiday Kwanza and why it's important to the African American community. Then enjoy a demonstration of musical instruments from around the world, followed by an invitation to join in participatory music making using any instrument and/or your voice. Bring your drums, kalimbas, steel pans, handpans, shakers, strings, monochord keys or any other instrument to make a joyful noise!
For more than 25 years, Robbi K's concerts have been joyous and exhilarating, with a focus on amusing and edifying the entire family, from parents to grandparents, toddlers to teens. Everybody participates with voices, hands, feet and hearts. Robbi K's powerful lyric soprano has graced TV commercials for the likes of Coca Cola, Lincoln Mercury,and GE, while onstage and in studios it has served her well in establishing an active career as a back-up singer for such superstars as Chaka Khan, Aretha Franklin, Jewel, Diana Ross, Rod Stewart, Daniel Rodriquez, Mary J. Blige, and Harry Belafonte.
Robbi K presents a variety of lively, interactive musical and storytelling concerts including "Keep the Beat," which has been performed most recently at NYC's Symphony Space, The Philadelphia International Children's Festival; The Van Wezel Performing Arts Hall in Sarasota, Florida; The State Theatre in New Brunswick, New Jersey; and The Berks Jazz Festival. Robbi's most requested show, which plays in venues nationwide, is inspired by Paul Simon's Grammy winning Graceland. As a storyteller, "Turtle's Shell," derived from her Parents' Choice Award winning CD Keep the Beat! she incorporates music and spoken word in an outstanding and unique manner.
Robbi was a 2021 contributor to the grammy nominated "All One Tribe" album. The 25-track project from the newly organized 1 Tribe Collective celebrates the rich culture and diversity that Black voices bring to family music by presenting the sounds of 24 family music artists from across the USA.
Robbi K is presented here in partnership with music instrument distribution company WE PLAY WELL TOGETHER - distributor of handcrafted musical instruments that Robbi incorporates into her musical offerings.