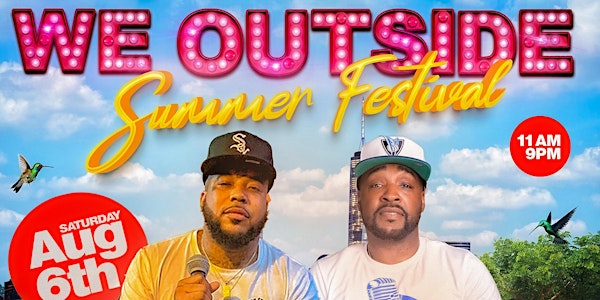 WE OUTSIDE Summer Festival 2022
August 6, 2022 from 11am-9pm join Protecting HIS Security Services & Dce3productions as we present the WE OUTSIDE Summer Festival in Lovejoy
When and where
Location
City Of Lovejoy Community Center 11622 Hastings Bridge Road Hampton, GA 30228
About this event
HELLO ARTISTS, VENDORS, BUSINESS OWNERS & MUSIC ARTISTS & ALL OF GEORGIA...
GUESS WHAT?...
WE OUTSIDE!!!!!!! WE OUTSIDE!!!!!!
On August 6, 2022 from 11am - 9pm, both of my companies, Dce3productions & Management and Protecting HIS Security Services will be hosting a huge community event. We have rented the ENTIRE park, community center and outdoor amphitheater in Lovejoy, GA for that day for our 1st mega festival entitled the "WE OUTSIDE" Summer Festival. We are expecting over 500+ people to attend & entry is only $5 per person. Kids 2 and under are FREE.
There will be music and performances ALL DAY! Music will be provided by celebrity DJ, DJ Waffles @dj_waffles (IG)! Our featured comedian at 7:30pm is non-other than 85 South Show, ATL's VERY OWN, Comedian Money Bag Mafia, @moneybag_mafia (IG).
If anyone is interested in becoming a vendor, please let us know. All non-food vendors are $200 and food vendors are $300. Set-up begins at 9:30am. You will have to provide your own table(s), tents, generators, etc. If interested in vending, please send your name, your company name, what you will be selling, and your contact information to protectinghis@gmail.com.
If anyone is interested in performing (music or comedy), please let us know as well. All solo music artists are $100 (10 minutes on stage) and groups of 2-4 are $200 (NO RAP/HIP HOP MUSIC WITH CURSING OR VIOLENCE ALLOWED). If interested in performing, send your name, your social media pages info and your music to Dce3productions@gmail.com.
Also, if you wish to be a sponsor, WE ARE SEEKING SPONSORS! Sponsorships start at $250.
For any questions, call 770-765-2434 or visit http://protectinghissecurity.com.