We Need To Talk !

Saturday, January 9, 2016 from 3:00 PM to 5:00 PM (EST)
Event Details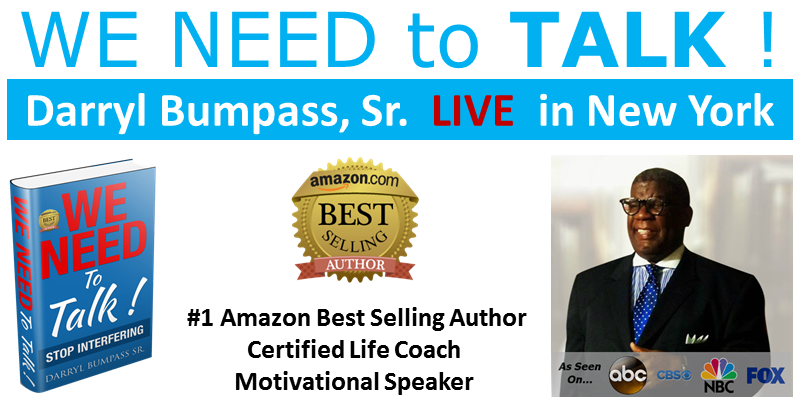 New Year,.. New You!

This motivational speaking event will inspire you and confirm your  beliefs  that certain people are sent  into our lives for specific reasons, and leaves you feeling  as if there message  was crafted specifically for you. Sometimes you just want to hear about other people struggles and journey to empower yourself.
 It's time to Get Out Of Your Own Way.
It's time to Stop Intefering with the process and your progress.
Darryl Bumpass, Sr is the #1 bestselling Amazon author, certified life coach, and motivational speaker who speaks in a most approachable manner about what it takes to enjoy the process of self-mastery.

Inspirational by all means and poised to change your life forever. Dedicated to bolstering how people view the pursuit of their dreams .
Bumpass is a veritable author, teacher and new-found friend to all who spends a few moments with his resourceful words." 

 Find our more about Darryl Bumpass, Sr here
Hotel Reservation

ALOFT HARLEM
2296 Frederick Douglass Boulevard · New York, New York, 10027
Phone: 212-749-4000 
Hotel Reservations: 866-716-8143
When & Where

The Dwyer Cultural Center
258 Saint Nicholas Avenue
New York, NY 10027


Saturday, January 9, 2016 from 3:00 PM to 5:00 PM (EST)
Add to my calendar
Organizer
★ Motivational Speaker ★ Certified Life Coach ★ #1 Amazon Best Selling Author ★ Branding & Marketing Expert ★ Public Speaker & Popular Author►
▬▬▬▬▬▬▬▬▬▬▬▬▬▬▬▬▬▬▬▬▬▬▬▬▬▬▬▬▬▬▬▬▬▬▬▬▬▬▬

✔ 30+ years of Entrepreneurship, Leadership & Motivational Expert experience in diverse industries and functions repeatedly yielding exceptional results. ✔ Author of "I Know You Hear Me, But Are You Listening?" and We Need To Talk ! looking to transform others' lives in every way possible. Audience Review Excerpt: ◄ "The motivational public speaker and certified life coach writes in a most approachable manner about what it takes to enjoy the process of self-mastery. Inspirational by all means the self-help book is a quick read poised to change the reader forever. Dedicated to bolstering how people view the pursuit of their dreams Bumpass is a veritable author, teacher and new-found friend to all who spends a few moments with his resourceful words."