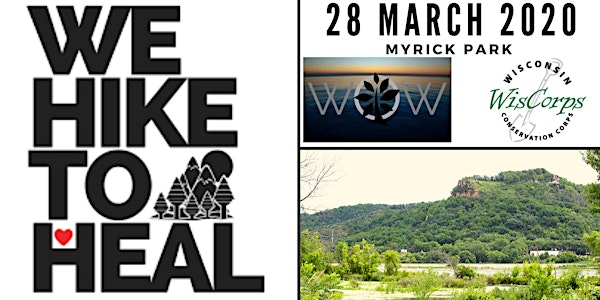 We Hike to Heal 2020: La Crosse WI Event
Location
WisCorps, Inc.
789 Myrick Park Drive
La Crosse, WI 54601
A community hike to culminate #wehiketoheal's month-long women's empowerment and wellness campaign.
About this event
WisCorps and Women of the Wild Midwest are teaming up with the Outdoor Journal Tour and its #wehiketoheal2020 campaign. Women of the Wild Midwest co-founder Andrea Frisch C.T.R.S. will lead one of the dozens of group hikes worldwide to celebrate #WeHiketoHeal2020 on Saturday, March 28 at 10:00 a.m. in Myrick Park and Marsh.
The hike will be for people of all abilities and will include nature-based yoga and mindfulness activities. The group will meet at the WisCorps Headquarters, the Myrick Park Center. Please bring plenty of water and dress for the weather (which could be a foot of snow or 80 degrees and sunny... it's Wisconsin!). The hike length will be dependent on trail conditions and marsh water levels. No hiker will be left behind!
This event is free and open to the public - please register so we have an approximate guest count.
If you need accommodations, please let us know. We will make adjustments to our trail choice and plan to be more inclusive of your needs. The WisCorps Action Trackchair will be available to anyone with a mobility impairment.
#wehiketoheal is a month-long women's empowerment and wellness campaign. Each week throughout the month, registrants receive mindfulness resources that encourage introspection. The experience culminates with group (and individual) hikes all over the world—on the same day. #wehiketoheal's goal is to create a healing environment of gratitude and connection for women…everywhere. Visit https://www.wehiketoheal.org/ for more information.
WisCorps, Inc. is a nonprofit organization located in La Crosse, Wisconsin. Founded in 2009, our mission is to develop leadership, self-confidence, and a strong work ethic in youth and young adults through the active stewardship of Wisconsin's communities and natural resources. Our goal is to conserve and educate about Wisconsin's and the midwest's unique natural resources. We do this by completing conservation projects through our Conservation Corps and providing Environmental Education programs to the greater La Crosse Community. Visit www.wiscorps.org for more information.
Women of the Wild Midwest is an inaugural outdoor adventure weekend for women that will be held at Hocking Hills State Park in Ohio, October 23-25. This weekend event will bring together like-minded women who are interested in the outdoors for a weekend of outdoor recreation, demonstrations and inspirational speakers. This event will help build community and provide a safe space for women to learn from one another while gaining confidence in outdoor activities and skills. Visit www.wowmidwest.com for more information.