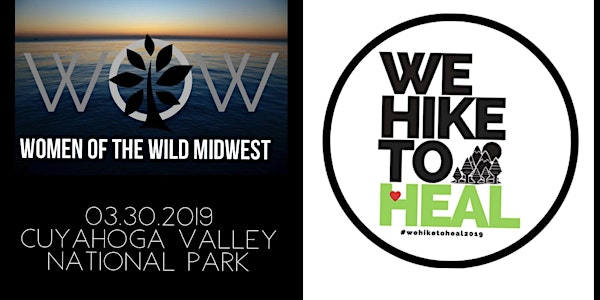 We Hike to Heal 2019: Northeast Ohio Event
When and where
Location
Kendall Lake Peninsula, OH 44264
Description
Women of the Wild Midwest is teaming up with the Outdoor Journal Tour and its
#wehiketoheal2019
campaign. Women of the Wild Midwest co-founder Lindsey Mitchell and Akron-based Yoga Teacher (E-RYT 200®)
Gretchen Horinger
will lead one of dozens of group hikes worldwide to celebrate
#WeHiketoHeal2019
on Saturday, March 30 at 11:00 a.m. on the cross country trail. Following the hike, Gretchen will lead the group in a lakeside yoga session. The group will meet at the Kendall Lake trailhead. Please bring plenty of water and dress for the weather (which could be a foot of snow or 80 degrees and sunny... it's Ohio!). The hike will be about 3 1/2 miles and is good for all skill levels. Dogs welcome but must be kept on leash per park rules. Please bring a mat / towel to leave in your car for yoga after the hike!
This event is free and open to the public - please register so we have an approximate guest count.
#wehiketoheal
is a month-long women's empowerment and wellness campaign. Each week throughout the month, registrants receive mindfulness resources that encourage introspection. The experience culminates with group (and individual) hikes all over the world—on the same day.
#wehiketoheal
's goal is to create a healing environment of gratitude and connection for women…everywhere. Visit https://www.wehiketoheal.org/ for more information.
Women of the Wild Midwest is an inaugural outdoor adventure weekend for women that will be held at Perrot State Park in Trempealeau, WI from May 17-19. This weekend event will bring together like-minded women who are interested in the outdoors for a weekend of outdoor recreation, demonstrations and inspirational speakers. This event will help build community and provide a safe space for women to learn from one another while gaining confidence in outdoor activities and skills. Visit www.wowmidwest.com for more information.
Gretchen Horinger is not your average yoga teacher. Gretchen is a slightly unconventional, totally real ERYT-200 hour teacher, trained by Marni Task, + a constantly curious student of life who has built a following by teaching directly from her heart. No fronts. No facades. Through laughter or tears she delivers straight-up, damn good yoga experiences to her students.
On top of teaching studio classes & workshops, Gretchen is passionate about hosting local yoga events that incorporate sweating & socializing to build up connections within her community. Her Mission: I believe yoga can do you a world of good. Whether you prefer a power practice or regrounding with a soulful slow flow, the mental, physical, emotional, & spiritual benefits of being on your mat & in community are extraordinary.