We Heart Art Penthouse Evening with Live Jazz
Description
All guests must be age 21+ with valid identification, there are no exceptions.
Follow us
exclusive invitation - one evening only December 21st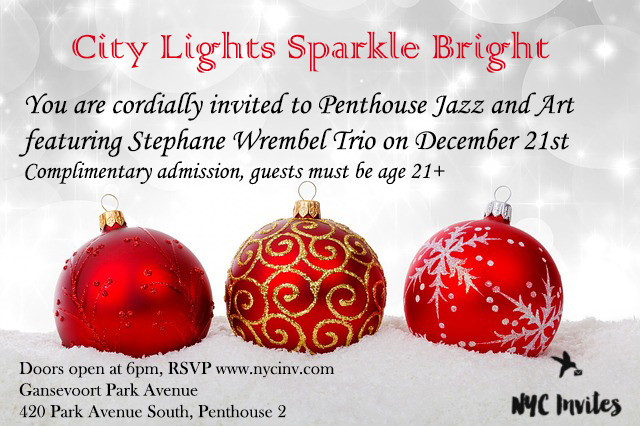 Join Manhattan's most beautiful young professionals for a one evening only art and jazz event with a performance by the Stephane Wrembel Trio for a dynamic skyline event. Admission is complimentary. 21+ to attend. Kindly RSVP. Featured artists to be announced.
Doors open at 6pm
Dress code: business / chic
Venue Address:
Gansevoort Park Avenue, Penthouse 2, 420 Park Avenue South
-Penthouse 2 incorporates both indoor lounge space and poolside terrace. Rain or shine this will be a spectacular evening.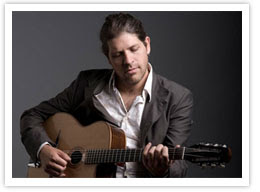 "A REVELATION" –Rolling Stone Magazine"Intense and full of charisma." -The New York Times"One the greatest guitar players I've ever seen ...and I don't say that lightly." –Relix Magazine"[Wrembel embodies] a John Coltrane-ish search for a moment of musical nirvana..." -Variety"A truly astonishing talent…" –All About Jazz
Composer Stephane Wrembel hits the road this winter – bringing his jaw dropping talent, palpable musical rapport with His Band, and vivid and textured compositions to life on theater stages along the east coast and Midwest.
Parisian born Wrembel – whose music embraces all styles and influence to create a truly signature sound – is being hailed as one of the world's most dynamic and inspired players out there today. Wrembel is indeed a standout – not only for his undeniable skills but also for his unparalleled ability to create a unique and vivid listener experience.
Organizer of We Heart Art Penthouse Evening with Live Jazz
Exclusive events in NYC  PLUS the causes you care about – right here, in The City you LOVE.
We find, curate, and create exclusive social event experiences: charity galas, rooftop brunches, sunset cocktails and live jazz, fashion events, art gallery openings and more.
We are passionate about bringing together fun, charitable, dynamic people in relaxed settings to connect, exchange ideas, and to share new experiences! Meet and mingle with old friends and new and experience The City you LOVE in new ways!
Membership is currently open and complimentary.  
Join us!  
Copyright 2009-2015