We Global Arts Festival Presents: The WGAF Ladies Showcase & Toy Drive
Description
We Global Arts Festival Presents: The WGAF Ladies Showcase & Toy Drive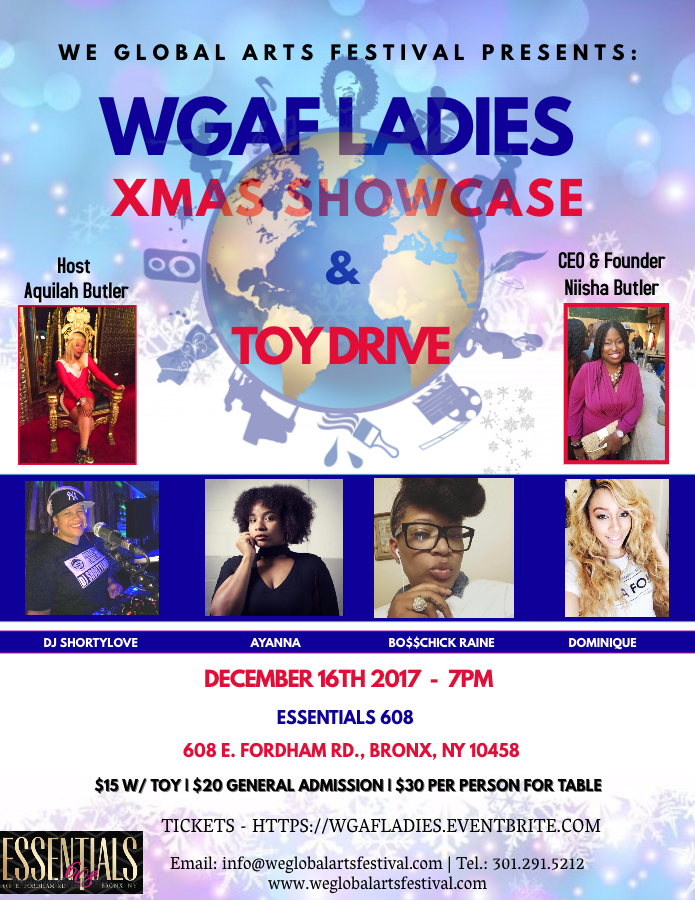 Date/Location/Time/Price/Specials:
Date: Saturday, December 16, 2017
Location: Essentials 608, 608 East Fordham Road, Bronx, NY 10458
Time: 7:00 pm doors open. 8:00pm - Showtime.
Price: $15 Admission with Toy | $20 Regular Admission | $60 for Table of 2 | $120 for Table of 4 | More at the Door
Specials: $5 Shots from 7:00pm to 7:30pm / $10 Drinks All Night/ $5 off of Hookah
Toys: The toys (no clay or legos) will be donated to Cherry Kids, Inc., located in Harlem, NY.
For Tickets & Contact

:
Get Tickets: https://wgafladies.eventbrite.com
Email: info@weglobalartsfestival.com | Tel.: 301.291.5212
HOST: AQUILAH BUTLER, WE GLOBAL ARTS FESTIVAL PRESS REPRESENTATIVE & CEO OF REDENVY HAIR ESSENTIALS

AQUILAH BUTLER

Aquilah Butler is the Founder & CEO of RedEnvy Hair Essentials Luxury hair care line designed to rapidly grow and transform your hair. All natural and organic hair care for all; inspired by nature, created with you in mind.
ARTISTS:
AYANNA
Ayanna Williams is an R&B singer, musical theater actress, and lyricist. Born and raised in the Bronx, New York, Ayanna Williams' love of music and performing came at the early age of 11 when she started writing and performing her own songs. Ayanna performed in well-known shows such as Once on this Island, The Wiz and most recently In the Heights at the Irvington Town Hall Theater in New York where she played the role of Daniela.
As Quincy Jones so eloquently stated "I started imagining this whole different world. It was a society of musicians, a family I hoped I could belong to one day." Ayanna is looking forward to also belonging to part of the musical family.

Instagram: @Ayannathesinger | Twitter: @ayanna_sings
BOSSCHICK RAINE
A product of Hip Hop's own backyard, the Boogie Down Bronx, it would be fair to say that Raine strives to represent the true essence of this culture. Named by emcees she met while attending college in Philly, Raine stands for "Real And Intelligent, Nobody's Equal". Rapping since she was 12 years old, Raine was often the only girl and began using battle rap as a way of proving herself as an emcee. A few of her influences are none other than Biggie, Nas, Jay-Z, Lauren Hill, Lil' Kim and Queen Latifah.
As creator and host of Battle Talk Radio, Raine provides a weekly platform for battle rap and music to come together regardless of league or crew, mainstream or underground. In addition to the show, Raine is currently pushing forth her brand, BossChick University, with which she hopes to spread the movement of female empowerment. Raine's ultimate goal is to become a Female Mogul such as Diddy or Jay-Z. Recently, Raine launched BossChick Battle League and the BossChick Cyphers, two additional avenues to give the female mc a boost. But fear not young men of hip hop and beyond, Raine have started the BossLife Brand, the brother company, in her empire. Look out for Raine's first body of work and gift to the world, appropriately titled, BOSSCHICK, the album and movie.
Instagram: @Bosschickraine | Twitter: @Bosschickraine
DOMINIQUE
Dominique is a native of New York, born in Harlem and raised in the Bronx.
She began singing at the age of six in the youth choir of G.U.B.C. She is a graduate of Choir Academy of Harlem and she's also a graduate of Barbizon School of Models. She is now an established singer, songwriter, model and actress. Dominique has had the opportunity to share the stage with some of the greats such as Patti LaBelle, Martha Reeves, Jeff Redd, Donell Jones, Carl Thomas just to name a few. With her skills, hard work and dedication there's nothing that she cannot accomplish.
Instagram: @dominiquejenay | Twitter: @dominiqueBX
DJ: DJ SHORTYLOVE AKA HARLEM FIRST LADY DJ
DJ ShortyLove, the founder of ShortyLove Entertainment is a well-accomplished DJ with 20 years experience in the business.
ShortyLove Entertainment is a top of the line professional DJ Company whose music selections cater to crowds of all ages. DJ ShortyLove has done everything from entertaining guests at a wedding to spinning music at some of the hottest nightclubs in New York City. Whether your event is low-key and elegant or high energy and dynamic, DJ ShortyLove can adapt to any atmosphere.
Instagram: @djshortylove | Twitter: @djshortylove
TOYS:
We will donate toys (no clay or legos) to Cherry Kids, Inc., located in Harlem, NY.
FAQs
Are there ID or minimum age requirements to enter the event?
Please have ID and minimum age is 21
How can I contact the organizer with any questions?
You can contact the organizer at info@weglobalartsfestival.com
What's the refund policy?
All Sales Are Final
Do I have to bring my printed ticket to the event?
Yes