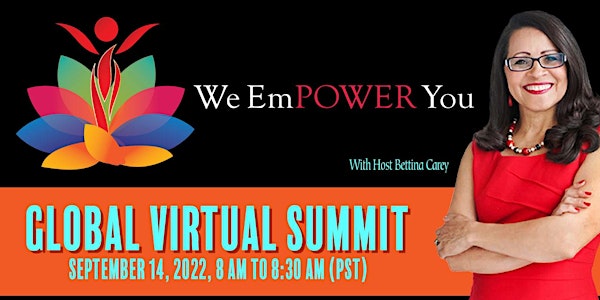 We EmPOWER You Global Virtual Summit, September 14, 8:30 am to 8:30 pm PST
More About The We EmPOWER You Global Summit:
About this event
Whether we are coaching from a live or virtual stage or conferring with a small cohort of bold women or men on the rise across a conference table, our championship, strategies, and straight talk inspires attendees of the We EmPOWER You Global Virtual Summit to find a whole new gear to succeed beyond their wildest dreams. Our aim is to empower you to create BIG RESULTS, and to break through, "No", shatter your earnings glass ceiling, kick self-imposed limitations to the curb, and live your legacy now.
The Summit starts at 8:30 am and goes till 8:30 pm (PST) on Wednesday, September 14, 2022. You can attend the whole day or just for a part of it, you decide!
Coaching is a noble profession, but in these tumultuous times, so many talented coaches are finding that they simply cannot connect with people that they could be helping.
And people... need our help more than ever these days. That is why I have conceived the We EmPOWER You Global Community and Global Virtual Summit.
I'm Bettina Carey, and I'm inviting you to join with some of the World's leading empowerment coaches, trainers, authors, mentors and thought leaders for our upcoming We EmPOWER You Global Virtual Summit.
There is an old saying that goes, "if you want to go fast, go alone, but if you want to go far, go together." It's in that spirit of togetherness, that we aim to help connect more talented coaches to the people that they might help.
Join us for free and share your knowledge in this find wealth by giving endeavor and there isn't a hidden fee or big sales pitch at the end. You will be shoulder to shoulder with some of the world's best thought leaders, newsmakers and game changers.
And, you will see for yourself exactly what the We EmPOWER You Global Community and Membership is all about. It's a blend of altruism and business to be sure.
This endeavor is audacious and we hope to plant seeds that take deep roots so WE NEED YOU. If you have a goal of helping others reach and achieve that next rung
...If your work aids in lifting people out of self-limiting beliefs
...If you are ready to fix the world one client at a time or spread your message to the masses
...You are welcome to join us at our We EmPOWER You Global Summit.
Tickets are free, but RSVP is required. Scan the QR code if you are watching on TV or go to our website at: WeEmPOWERYourLife.com.Click on the "Summit Tickets" tab to get more information and to claim your Zoom admission ticket.
By signing up to attend the Summit you will automatically be entered to win a 3-month We EmPOWER You Membership (Value $400). Good luck! Plus, you get VIP ACCESS to Admanity Protocol to learn just what emotions to use when promoting your brand. Your Admanity VIP ACCESS PASS will be sent in a seperate email. Be sure to check your junk/spam mail if you do not see it within 48 hours.
We EmPOWER You - Together We Will Go Far!
See you at the Summit!