The Sole Girl Fashion Market is the ultimate shopping experience that includes phenomenal business owners who range from fashion, beauty, et
About this event
The Sole Girl Fashion Market is the ultimate shopping experience that includes phenomenal business owners who range from fashion, beauty, home décor, food, and so much more. Our collection of Pop Up Shops are the perfect meeting place to find unique and inexpensive items while mingling and networking with phenomenal people. Our events are held indoors and are free to the public.
At this market we are honoring our favorite men : FATHERS for their amazing holiday weekend. We will have 20 wonderful grab bags and some pretty amazing businesses with awesome products just for men.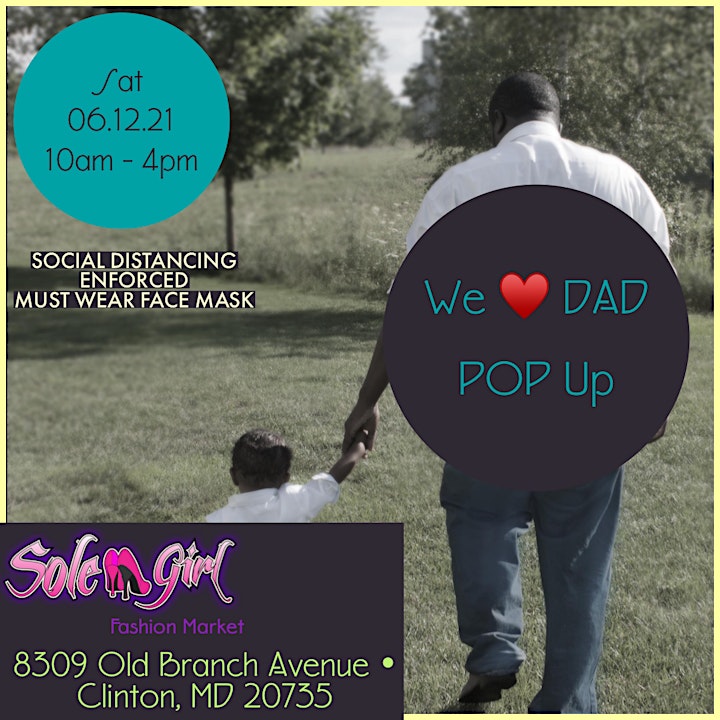 Organizer of We ❤️ DAD Pop Up
Sole Girl Shoe Party was established in July 2010 in Landover, MD as a women's traveling shoe store. Sole Girl specialize in satisfying your sole in the comfort of your home. The company later evolved into an online store along with creating an in-home boutique for local fashionistas. Durng early 2011, Sole Girl began hosting events that included other amazing small business owners. This sparked the Sparkle & Glam Fashion Market, a traveling pop up shop with clothing, shoes, body & hair care products, food & dessert, home decor, etc. The fashion market has been hosted at Howard University as well as at clubhouses in Waldorf, Odenton, Annapolis Junction, and other phenomenal places.
In November 2019, Sole Girl Fashion Market opened their doors at 8309 Old Branch Avenue, Clinton, MD 20735. At our permanent location we host our weekly Sole Girl Fashion Market every Saturday from 10am - 4pm. We also host other classes and workshops as well as rent our facility for those who wish to host their own parties, events, classes, etc.