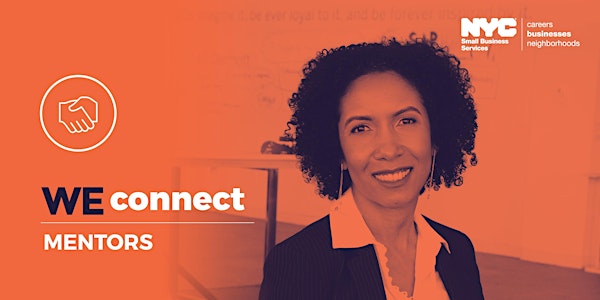 WE Connect Mentor Session with Dr. Corrinne Graham on Perseverance
Join this WE Connect Mentor Session with Dr. Corrinne Graham on Perseverance
About this event
Join us for our WE NYC Expert-Led Group Mentoring Session series!
In this expert-led group mentoring session series, you will have the chance to work in a facilitated setting with industry experts to understand the tools through which you can develop positioning, tech tools, marketing and finance strategies.
The entrepreneurship journey is extremely time and energy consuming. While few see the fruits of their labor within the first few years, some dreams take longer and having the tenacity to keep going can be challenging.
In this virtual 1-hour mentoring session we will discuss how prioritizing your wellbeing is essential to navigating competitive spaces. During this session you will gain skills to help you integrate self-care throughout your journey and integrate tools to help you persevere through the challenges of entrepreneurship.
About Speaker
Dr. Graham is a business specialist with nearly two decades of experience across a diverse spectrum of businesses with revenues ranging from US$20m to US$500m. She is also a highly accomplished speaker, mentor, project manager, commercialization and technology transfer specialist, workforce and personal and professional development trainer. She is the president of GRAHAM International Consulting and Research Inc, which specializes in strategies for small business growth, development, research and training.
In 2020 Dr. Graham participated on the UN Sustainable Development Solutions Network-Youth Initiative, Youth Solutions Program Advisory Panel and co-authored a chapter, The Entrepreneurial Journey in the Decade of Delivery. She is also a part of Farmingdale Annual IESC (International Energy and Sustainability Conference) Planning Committee. Dr. Graham is also currently an adjunct professor at Long Island University (LIU) Post, Brookville Campus and lectures in Corporate Social Responsibility and Sustainability. Read her full bio.